Athletico is celebrating its 25th Anniversary this year, and we couldn't have made it this far without the strengths of our talented employees and leaders.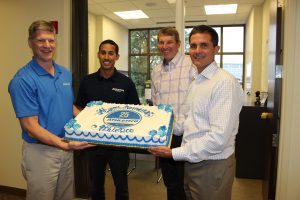 From Physical Therapists to Office Coordinators, each Athletico employee has a unique skillset and is a valuable asset to our company. The best thing about our employees, however, is their passion for their careers and the industry.
To highlight this passion, we asked our employees to share what they love about working at Athletico. Check out ten of their responses below:
1. "Getting to see patients progress with their health and be back to their best, if not original, range of motion and to do activities of daily living (ADLs) with ease." – Giancarlo Regacho, Rehabilitation Aide
2. "I love working for this company because I get to see people get better. A lot of times you see patients walk in that are in a lot of pain. Most are frustrated because they can't do what they are normally used to doing. There's really no better feeling than watching them walk out the door 6-12 weeks later with a completely different attitude. I also love the people I work with. It's a very family feel environment. It's nice to know that your work family cares about you as much as your real family does. We also do all that we can to put the patient first and to make sure they're as comfortable as possible." – Kaitlyn Hineman, Office Coordinator
3. "I love the people that I am surrounded with on a daily basis. The managed care team in the billing center has a great group that is dedicated to working hard but also has a versatile spectrum of personalities that mesh together greatly!" – Elizabeth Eggers, Managed Care A/R Representative
4. "I LOVE that we are making a difference! Physicians are prescribing Therapy instead of pain pills and it feels good seeing people walk out of our clinic feeling better and seeing it change their lives. I appreciate Athletico helping to teach me and my co-workers how to create a positive and healthy environment to take care of these patients in. It is important that we provide an uplifting experience all the way around and I believe Athletico tries to do that!" – Melinda Hill, Office Coordinator
5. "Athletico is a fantastic organization for healthcare professionals! Personally, it has provided me with
a work family that I feel privileged to work daily shoulder-to-shoulder with while tackling challenges and creating opportunities. Great clinicians, skilled Athletic Trainers and a dedicated front office team serve thousands of our communities in nine states every day. There is no greater professional accomplishment than returning someone back to their full functional status and getting them back to the game of life!  This is demonstrated daily as our patients hug our clinicians when they are discharged and the countless e-mails, calls and letters I receive commending our skilled team on the care of their patients.  Congratulations Athletico on 25 years!  What a great accomplishment and testament to all who have made this milestone possible." – Grant R. Koster, PT, ATC, FACHE, VP Clinical Operations
6. "It's so rewarding to be able to help patients of all walks of life have less pain and get back to doing what they love." – Katie Kuebel, PT, DPT, Facility Manager
7. "I love my role being a part of the Athletico family. My job being an office coordinator is the face you see every day when you walk in our clinic. It's a nice feeling, being able to make patients feel good when they walk into the office. I'm a people person, so dealing with different cultures is always a great feeling for me. My day is great, when I can give a patient knowledge about our company and the services we can offer." – Shayna Barfield Jones, Office Coordinator
8. "I would have to say most of all I LOVE the patients. I love getting to know them and becoming close to them. I also love the people that I work with, inside my clinic and also all the other clinics I have worked in as well. I have got to know quite a few of the employees by first starting as a float so that was nice. I love watching the success of the clinicians. I am the first person to see our patients walk in the door with their injuries and also the last one to see them leave. It is great to see how much they have improved in the sometimes short time that they have been with us, and the long time periods as well." – Valerie Ogle, Office Coordinator
9. "I LOVE that I get to personally know the patients. I LOVE that we build a relationship of trust and understanding. I LOVE that I get to watch them progress in their physical therapy, resulting in a happier, healthier patient. I LOVE knowing that we put our patients first and we go the extra mile to help answer their questions, sometimes resulting in an upset patient to a very satisfied patient. I LOVE putting our patients FIRST!!! I also LOVE my team members." – Kelly Zelnik, Office Coordinator
10. "I love hearing all of the patient stories and knowing that our company is making a difference in people's lives! I also love collaborating with staff from all nine states to share these stories with a bigger audience!" – Allison Howen, Content Marketing Specialist
Click to Check Out Our Career Opportunities
The Athletico blog is an educational resource written by Athletico employees. Athletico bloggers are licensed professionals who abide by the code of ethics outlined by their respective professional associations. The content published in blog posts represents the opinion of the individual author based on their expertise and experience. The content provided in this blog is for informational purposes only, does not constitute medical advice and should not be relied on for making personal health decisions.