The holiday season is a joyful time of year when many of us look forward to spending some quality time with our friends and family.
Despite the fun that comes with the festivities, December can also be a very stressful time of year. Not only are many of us left scrambling to purchase last minute holiday gifts, but we are also trying to find time to wrap  gifts, decorate the house, plan holiday get-togethers, bake holiday treats and cook major family meals. All of this can cause added stress which can make it easy to overlook some of the healthy habits that were built throughout the year.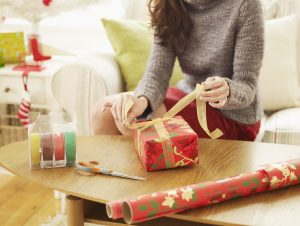 To help you stay healthy through the last weeks of December, we have put together a Holiday Survival Guide that includes several tips to keep you stress free and merry throughout the holiday season.
Holiday Survival Tip: Find time to Stretch
This time of year can be tough on the body – not only are many of us carrying heavy shopping bags around, but we are also spending more time doing activities like cooking and shoveling snow. To keep your body loose, it is a good idea to make time to stretch at least once or twice a day. If you need stretching guidance, take a look at three of this year's most popular stretches from our "Stretch of the Week" blog series (click the titles to learn how to perform each stretch).
Try this stretch if wrapping presents has you feeling tightness in your wrist. The Wrist ROM Stretch will help you find where you are tight and free up some of the restrictions in the wrist.
Crossed Legged Low Back Reclined Twist
Has holiday shopping left you with back pain? This simple stretch will help you gain flexibility in stiff lumbar muscles that can cause muscle imbalances and contribute to low back pain.
Everyone needs a good massage during the holiday season. In addition to stretching the front of your body, this stretch includes instructions for massaging the front of your thighs.
Holiday Survival Tip: Rest
Sleep is a key component of living a healthy lifestyle, so getting enough sleep should be a priority during this busy time of year.
When sleep is cut short, the body doesn't have enough time to complete all the phases needed for things like muscle repair, memory consolidation and the release of hormones that regulate growth and appetite according to the National Sleep Foundation. Although the recommended amount of sleep varies by age and individual, adults should aim for at least eight hours every night to give their body enough time to mend.
Holiday Survival Tip: Stay Hydrated
If you want to be at your best during the holidays, it is important to stay hydrated. Dehydration can impact your body's ability to heal, carry out normal functions and drain your energy.
The guideline that most people follow when it comes to hydration is to drink at least 64 ounces of water a day. While that is a good target, it is important to be aware that more water is needed when activity level increases. The American Council of Exercise (ACE) suggests drinking 17-20 ounces of water two to three hours before the start of exercise, eight ounces 20 to 30 minutes prior to exercise or during warm-up, 7-10 ounces every 10 to 20 minutes during exercise, eight ounces within 30 minutes after exercising and 16-24 ounces for every pound of body weight lost after exercise.
Holiday Survival Tip: Get Some Sunlight
The shorter amount of daylight in December means less natural vitamin D, which can make you feel a bit sluggish. To combat this feeling, make an effort to spend some time outdoors when the sun is out. In addition to vitamin D that comes from the sun, you can make an effort to eat foods that are high in vitamin D or take a vitamin supplement. That said, you should consult with your doctor before adding any supplement to your daily routine.
Holiday Survival Tip: Pack Healthy Snacks
The holiday season is a time when we are all tempted by sweet and savory foods. Even though it is okay to indulge once in a while, it is still important to maintain a healthy diet. After all, what you eat is what helps fuel your body! Make it easier to stay committed to eating healthy by preparing snacks that you can keep with you and eat when tempted by candy or cookies.
Holiday Survival Tip: Ask for Help
The holidays are a busy time where many of us try to take on more than we should. For example, most of us are probably guilty of trying to take too many heavy grocery bags into the house, stretching too far when hanging holiday decorations or even wrapping one too many gifts. Instead of rushing through these tasks, make sure to take your time, address the situation and ask for help when needed. Keep in mind that it is better to spend extra time on a task rather than time in a doctor's office.
Holiday Survival Tip: Have Fun!
Last but not least, make sure to have fun this holiday season! December can be a stressful month, but it doesn't have to be. Since the holidays come only once a year, focus on enjoying the time with your loved ones and making amazing memories.
Holiday Aches and Pains?
If you end up feeling aches and pains in the days leading up to or after the holiday season, make sure to contact your nearest Athletico location to schedule a complimentary injury screening so you can start off the New Year pain free!
Schedule a Complimentary Injury Screen
The Athletico blog is an educational resource written by Athletico employees. Athletico bloggers are licensed professionals who abide by the code of ethics outlined by their respective professional associations. The content published in blog posts represents the opinion of the individual author based on their expertise and experience. The content provided in this blog is for informational purposes only, does not constitute medical advice and should not be relied on for making personal health decisions.