Athletico Physical Therapy makes it a priority to give back to the communities we serve through charitable donations and volunteerism.
In 2016, Athletico supported hundreds of events at the local level by providing pre- and post-race stretching, massage therapy, educational lectures, athletic training services, injury screenings and more. In addition, Athletico and our employees gave more than $500,000 in monetary and in-kind donations throughout the year.
Athletico's commitment to giving back is something that is top of mind for employees through our organization, from clinicians who initiate food drives to our corporate office that hosts blood drives within the local community. Read below for details about some of the ways Athletico and employees gave back in 2016:
---
1. Donating Time
Mission Trips – Global Medical Brigades and Cure International
Each year, Athletico employees travel with Global Medical Brigades to provide medical care to remote rural communities. Athletico supports this medical mission by holding a jeans day fundraiser and makes a corporate donation to purchase medical supplies and help offset the volunteer costs of the trip. This was the ninth year Athletico employees volunteered with Global Medical Brigades, a sector of Global Brigades. Click here to read about Katy Ceisel's experience in 2016.
In addition to the Global Medical Brigades trip, Athletico supported Regional Manager Ann Payton on a mission trip to the Dominican Republic with Cure International in April (see image). Ann had the opportunity to work with the Cure hospital and serve the staff in any way needed, including offering crutch training and basic stretching information to patients.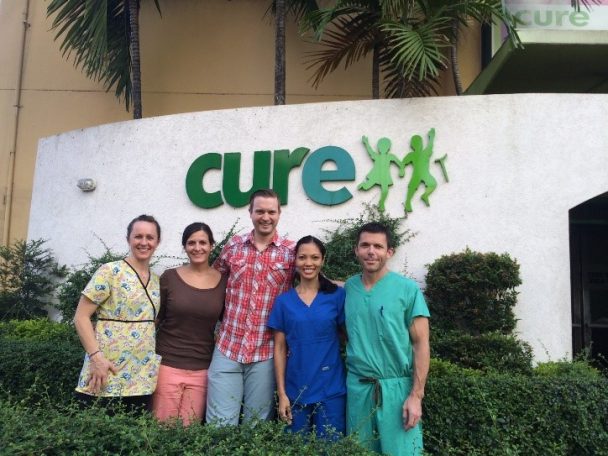 PT Day of Service
Aside from mission trips, Athletico employees donated their time in October 2016 through various volunteer initiatives to support Physical Therapy Day of Service. For example, our Cedar Rapids Clinic made fleece blankets for the women and children at the Catherine McAuley Center.
Bowl for Kids' Sake
Athletico forms various teams to participate in Big Brothers Big Sisters' Bowl for Kids' Sake event each year. This year's event took place in April and raised more than $31,000 for BBBSMC mentoring programs!

---
2. Giving Services
A Step aHead
To combat concussions in young hockey players, Athletico once again worked with the Chicago Blackhawks, the Amateur Hockey Association of Illinois (AHAI) and NorthShore University Health System in 2016 for the A Step aHead initiative. Through A Step aHead, Athletico provides free baseline concussion testing to AHAI members ages 13-18.
Educational Opportunities
Athletico employees volunteer for educational, lecture and seminar opportunities throughout the year. In 2016, our staff members could be found providing education throughout at a variety of locations, from presenting concussion lectures at local high schools to putting together student workshops as shown in the picture below.
---
3. Collecting Goods
Food Drives
Athletico teams host food drives throughout the year to donate to local organizations within their communities. Athletico's Billing Center, for example, collected more than 700 pounds of food for Loaves and Fishes, which is an organization that distributes more than 60,000 pounds of groceries each week in Naperville and DuPage County.
Supply Drives
In addition to food drives, Athletico employees also regularly host and participate in supply drives  – from collecting shoes for those in need to gathering everyday supplies for local shelters. In October, our Gary, Indiana Clinic collected supplies like shampoo, soap and lotion to donate to Rainbow Shelter.
Blood Drives
The Athletico Memorial Blood Drive, which is held in memory of Jenny Riemer, typically occurs at Athletico's Billing Center and Corporate offices multiple times throughout the summer. In 2016, the blood drive had 301 donors who helped save 903 lives with their donations.
---
4. Raising Funds
Arthritis Foundation
Athletico teamed up with the Arthritis Foundation for the 2016 Freedom of Movement event. Through the work led by Athletico's own Grant Koster and committee members from both Athletico and Arthritis Foundation, the event raised more than $360,000. This was the largest amount of money raised at the Arthritis Foundation gala in its 27-year history.
Athletico has been supporting the Arthritis Foundation for close to 20 years and has raised over $400,000 for the Arthritis Foundation through corporate donations and jeans day fundraisers. This year's Freedom of Movement event was extra special as the Arthritis Foundation honored Athletico's Founder and CEO Mark Kaufman as the recipient of the Freedom of Movement award.

Local Fundraising
Athletico Clinics actively participate in local community fundraising efforts. Most recently, our Clear Lake, Iowa clinic donated a decorated tree to the Opportunity Village Festival of Trees. The tree is part of an auction with proceeds supporting services for people with disabilities.
Movember
Each year, Athletico creates an "AthletiMo" team to raise funds in support of Movember's mission to draw awareness to common men's health issues. In 2016, the AthletiMos raised over $11,000.
Jeans Days
Athletico gives employees the opportunity to donate to a different charity every month in exchange for a jeans day. In 2016, Athletico employees gave back to 15 different charities and raised more than $30,000.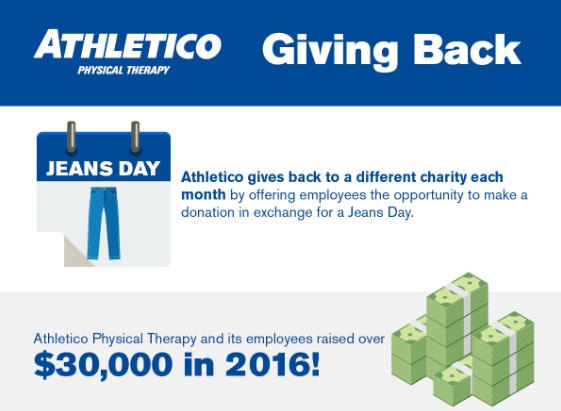 ---
5. Corporate Donations
Athletico's Charitable Giving Committee meets throughout the year to discuss corporate donations to organizations across the nine states we serve. In 2016, our corporate office donated to a variety of charities, including:
American Cancer Society
American Heart Association
Arthritis Foundation
Beacon Place
Big Brothers Big Sisters
Girls in the Game
Global Medical Brigades
Movember
Operation Walk
PT Day of Service supporting Stand Up For Kids
Youth Sled Hockey
---
Thank You for the Support!
Athletico's charitable giving initiatives are driven by a commitment to the communities we serve. We appreciate the support from all of the patients, partners and employees that help us in giving back to those in need each year.
"You don't always realize how little it takes to make a difference. Life is full of little ripples that make big waves of change, and I am proud of the ripples we made," – Erica Ames, Athletico Regional Service Manager.
---
The Athletico blog is an educational resource written by Athletico employees. Athletico bloggers are licensed professionals who abide by the code of ethics outlined by their respective professional associations. The content published in blog posts represents the opinion of the individual author based on their expertise and experience. The content provided in this blog is for informational purposes only, does not constitute medical advice and should not be relied on for making personal health decisions.