Whether you are hitting the road for a sports tournament or heading to the lake house, summer is here which means it's time for summer road trips! It is not uncommon for your body to feel stiff or sore after sitting in the car for long periods, but there are things that can be done to make the ride more comfortable. So before you load up the minivan, take a minute to see how you can keep yourself feeling good on your way to your summer fun!
General Suggestions:
Don't have anything in your back pocket to ensure to ensure that you are sitting evenly.
Sit as close to the steering wheel as possible without compromising safety to reduce the amount of reaching while driving.
Pull your chin in so your head sits on top of your spine.
Consider adding extra support with a small pillow or rolled towel to the car seat to allow your lower back to align with the seat.
Take breaks to get out and move around in order to reduce muscle stiffness and ache.
To take it a step further, you can try these stretches and exercises to loosen your body up during a road trip:
– Drivers: Always pay attention to the road and pull over in a safe place before performing any of the following stretches.
Posture: Before hitting the road, drivers should adjust the seat and the steering wheel positions to ensure when arms reach forward, their shoulders do not rise toward the ears. Try to keep the top of the shoulders relaxed and grip on the steering wheel light. Keep the elbows low and don't allow them to flare outward.

Chin Tuck: Practice pulling your chin under with the back of your head resting against the headrest. Hold for five seconds. You may feel a stretch in the back of your neck or base of your skull. Eyes should stay level with the horizon.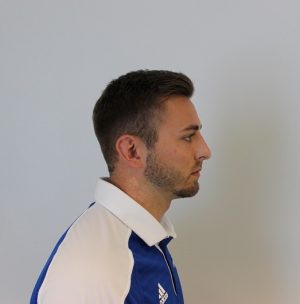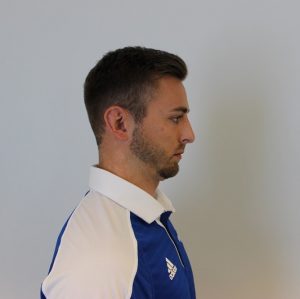 Scapular Retraction: Squeeze your shoulder blades together, think "down and in." Shoulders should not go up toward your ears during this exercise. You should feel the muscles between your shoulder blades working.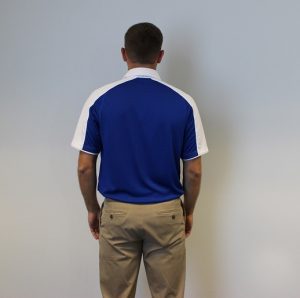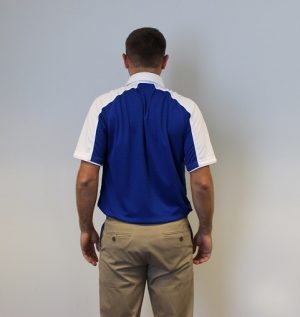 Hands: Drivers should change their hand position  frequently to increase blood flow and prevent fatigue.
Ankle Pumps: Move your feet up and down by pointing and flexing your ankles to help assist blood flow.
Pelvic Tilts: Tuck your tailbone under you and then reverse by arching your low back. Repeat for several reps to loosen low back muscles.
Hip Strengthening: For those in the passenger seat, bend your knees and keep your feet flat on the floor. Make sure the car door is locked. Press the outside of your knees into the door frame on one side and the center console (or your hand) on the other side. You should feel muscles on the outside of your hips working.
If you have a small pillow handy, you can place this between your knees and gently squeeze it. You should feel muscles on the inside of your thighs working.
Sleeping Passengers: Keep your seatbelt on. To allow your neck muscles to relax, try to use the window to rest your head or a small pillow.
Preventing Stiffness and Soreness
By taking these posture tips into consideration and taking time to stretch during your long drives this summer, you can help prevent body soreness and stiffness. If you do end up feeling discomfort after a long road trip, schedule an appointment at your nearest Athletico for a complimentary injury screening.
Schedule a Complimentary Injury Screen
The Athletico blog is an educational resource written by Athletico employees. Athletico bloggers are licensed professionals who abide by the code of ethics outlined by their respective professional associations. The content published in blog posts represents the opinion of the individual author based on their expertise and experience. The content provided in this blog is for informational purposes only, does not constitute medical advice and should not be relied on for making personal health decisions.