As all NBA fans know, the first major injury of the 2017-2018 season occurred to star guard of the Boston Celtics, Gordon Hayward. Gordon suffered an ankle fracture 5 minutes and 15 seconds into the start of the season.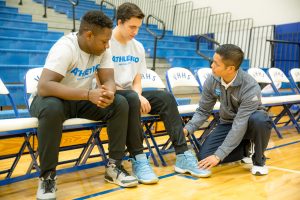 Gordon successfully underwent surgical stabilization of his fractured tibia and dislocated ankle and is on the road to recovery that will include many hours of physical therapy in hopes of resuming his professional basketball career. With ankle fractures catching the medical headlines over the last week, Athletico would like to shed some light on the subject.
Fracture vs. Break
Over the years as a physical therapist I've often gotten the question, "'What is a fracture and what is a break?'" Most are surprised to hear that they are one and the same. While both are acceptable, 'fracture' is the medical term to describe a break of the bone whereas 'break' is considered the layman's term.
Types of Fractures
The ankle joint is made up of the tibia, fibula and talus. Ligaments, tendons and muscles surround these bones to add stability and function to the lower leg. Not all fractures of the ankle are the same. The classification of the fracture depends on the severity and bones involved in the injury. Examples include medial malleolar and bimalleolar fractures. A medial malleolar fracture involves the bony prominence on the inside of the ankle whereas a bimalleolar fracture involves both the inside and outside bony prominence's of your ankle.
Surgery vs. Conservative Care
The determining factor for managing a fracture with surgical or conservative interventions depends on the extent and severity of the injury. If a fracture is stable and does not involve other structures surrounding the joint, a period of immobilization with modified weight bearing status may be all that is necessary before beginning physical therapy. Conversely, an unstable or compound fracture of the ankle will most likely require surgical stabilization before initiating physical therapy.
Physical Therapy Following Ankle Fractures
Physical therapy is initiated at the time that a fracture is deemed healed, regardless of surgical status. After a fracture and period of immobilization, muscle atrophy, loss of range of motion and difficulty walking on uneven surfaces typically occur.1
Timelines will vary based on individual patients, however standard physical therapy of an ankle fracture typically begins with gentle range of motion exercises, gait training, and strengthening.2 Once ready, balance and proprioceptive exercises are initiated at 4-6 weeks.2 Gradual return to normal activities usually begins around the 6-8 week mark and full return to activities is typically allowed in the 3-6 month range.2
Making a Comeback
While Gordon Hayward may be out for the rest of the season, he will be in a great position to make a comeback with physical therapy treatment in the coming months. The best part about physical therapy is that you don't have to be the next NBA star to benefit from it. Physical therapists specialize in rehabilitation of conditions of the musculoskeletal system. If you have an injury or unusual aches and pains, schedule an appointment at a nearby Athletico clinic so we can help you feel better and make your comeback. 
The Athletico blog is an educational resource written by Athletico employees. Athletico bloggers are licensed professionals who abide by the code of ethics outlined by their respective professional associations. The content published in blog posts represents the opinion of the individual author based on their expertise and experience. The content provided in this blog is for informational purposes only, does not constitute medical advice and should not be relied on for making personal health decisions. 
References:
Brotzman SB, Masnke RC. Clinical Orthopaedic Rehabilitation: An Evidence-Based Approach. Third Edition. Elsevier Mosby. Philadephia, PA;2011.
Chan KW, Ding BC, Mroczek KJ. Acute and chronic lateral ankle instability in the athlete. Bull NYU Hosp Jt Disc. 2011;69(1):17-26.
Kaplan LD, Jost PW, Honkamp N, et al. Incidence and variance of foot and ankle injuries in elite college football players. Am J Orthop. Jan 2011;40(1):40-4.
Czajka CM, Tran E, Cai AN, DiPreta JA. Ankle sprains and instability. Med Clin North Am. March 2014;98(2):313-29.