Preventing Injuries for First Responders
by Vic Zuccarello |
Leave a Comment
Paramedics and Emergency Medical Technicians incur work-related musculosketal (WRMSDs) disorders in numbers significantly higher than the general working population.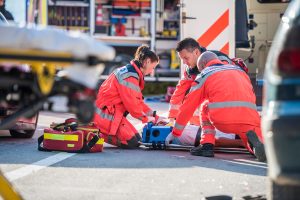 In fact, lost workdays with this group is experienced at a rate three times higher the general working population.2 What's more, a study from Ohio State University painted a sobering statistic: 8.1 out of 100 EMS responders will suffer an injury compared to 1.3 out of 100 municipal and general labor workers, a 62 percent difference!2
Bullets and burning buildings are life threatening work hazards for first responders, but the amount of lifting, pushing and pulling these people do as part of their work create dangerous situations as well. Read below to view recent statistics on the number and type of WRMSDs sustained, and to learn about solutions that may reduce these injuries.
Here are some statistics from a study conducted from 2010-2014 by the Centers for Disease Control:3
Gender – Males 69%, Females 31%
Age – 25-34y/o 39%, 35-44 y/o 28%
Type – Sprain/Strains 34%
Body Part – Neck/Shoulder 24%, Hand 18%, Low Back 15%
Event – Overexertion (lift/carry/push/pull) 35%
Some of the solutions proposed by the emergency services industry have included new equipment, body mechanics training and stretching programs.  While none of these interventions have been totally successful in isolation, the science favors a total program approach that includes prevention and post injury strategies.
Prevention Strategies Include:
Job analysis to determine the job's physical demands.
Post-offer evaluations to ensure a department brings on fit and healthy new-hires.
Early intervention when someone's at risk for injury and soft tissue management to provide first aid as well as reduce fatigue and soreness.
Containment Strategies:
Physical therapy to provide a functional rehabilitation program based on the requirements of the job.
Work conditioning/work hardening to provide job replication for those who were unable to return to work after traditional physical therapy.
Fit-for-duty evaluations to provide job matching information so the EMS Professional is brought back to full duty when they are safe.   
At Athletico, our Work Comp Specialists can help by providing a full continuum of care that emphasizes injury prevention and injury containment strategies. If you would like more information on any or all of our prevention and containment programs, call 888-8-WORK4U to ask for a Needs Assessment or visit us at www.athletico.com.
Studnek JR, Ferketich A, Crawford JM. On the job illness and injury resulting in lost work time among a national cohort of emergency medical services professionals. Am J Ind Med, 2007 Dec; 50(12): 921–31.
Ohio State University. (2008, January 8). Emergency Responders At High Risk To Miss Work Because Of Injuries. ScienceDaily. Retrieved September 20, 2017 from www.sciencedaily.com/releases/2008/01/080107112733.htm
NIOSH [2017]. Emergency Medical Services Workers: How Employers Can Prevent Injuries and Exposures. By Reichard A, Marsh S, and Olsavsky R. Morgantown, WV: U.S. Department of Health and Human Services, Centers for Disease Control and Prevention, National Institute for Occupational Safety and Health, DHHS (NIOSH) Publication 2017–194.