Live with Athletico: PT & OT Career Twitter Chat Roundup
by Athletico |
Leave a Comment
Athletico's recent Twitter Chat, "Live with Athletico: PT & OT Careers" tapped the insights of Mark Kaufman, Athletico President and CEO, to discuss the current and future landscape of the physical and occupational therapy professions.
The chat featured responses from Athletico's leadership team, industry thought leaders as well as clinicians who are just beginning their career journey within the professions. Read below for a recap of some of the most impactful questions and answers from the event.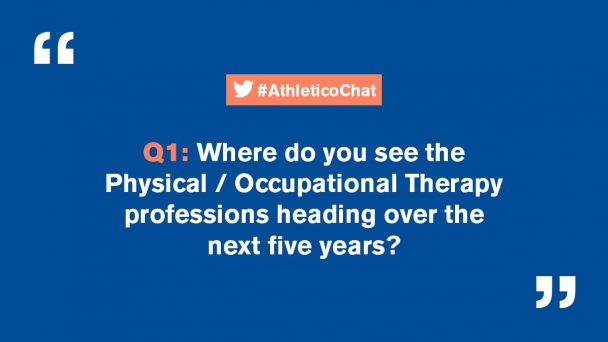 A1: I think (and hope) that #physicaltherapists #occupationaltherapists have improved access. #PhysicalTherapy has been shown to be an excellent, low cost alternative for many conditions and PTs should have this access. #Letsmakeithappen #DirectAccess #AthleticoChat

— Mark Kaufman (@Athltcoguy) January 31, 2018
A1: I see the field of physical therapy focusing its lens on prevention and wellness in an interprofessional approach to healthcare. I see physical therapist evolving and being recognized as leaders and experts in movement. #AthleticoChat

— Williams' (@_WilliamsWay_) January 31, 2018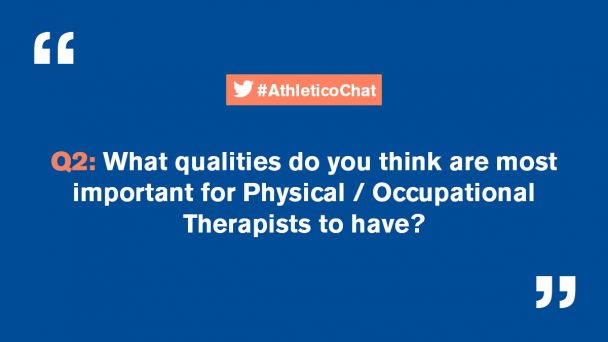 @Athletico A2: Curiosity is important to the success of the PT/OT/AT. Bringing in an open mind to each individual encounter #athleticochat

— John Honcharuk (@JohnHonch) January 31, 2018
A2: Empathy and compassion are the most important qualities to me for a PT/OT. You have to love what you do and have to connect with your patients and show them you truly care about their outcomes #AthleticoChat

— Jason Taylor (@JTPT2015) January 31, 2018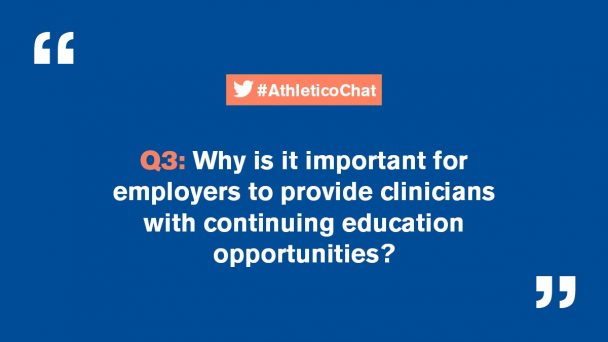 A3: continuing education is crucial in any health care profession. Clinical education opportunities provided by @Athletico allow its clinical team members to stay up to date on evidenced based practice and cutting edge treatment interventions #lifelonglearning #AthleticoChat

— Dr. Brandon Bowers (@blbowers12) January 31, 2018
A3: #AthleticoChat

Two Words: #AthleticoUniversity

It's what you do when you are part of an organization committed to continuous improvement as a core value.

We were recognized by @chicagotribune for a special award in training an education as voted by our staff.

— Grant Koster (@GrantKoster) January 31, 2018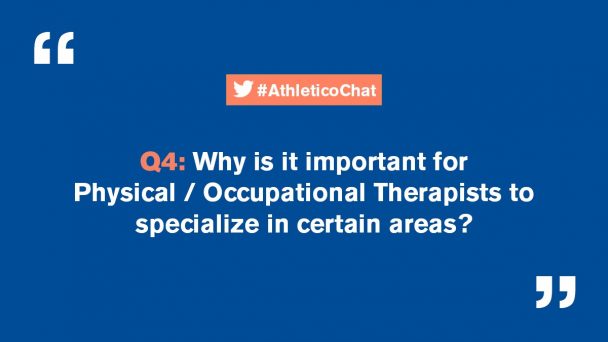 A4: I believe patients have a higher expectation 4 customer service, skillset, & specialization. This is only natural. I believe that #PhysicalTherapist & #HandTherapists can specialize in broad amount of areas to provide great care for areas like #ortho #sports. #AthleticoChat

— Mark Kaufman (@Athltcoguy) January 31, 2018
A4: as someone who refers to @Athletico #PTs it is important for us to know that we have therapists that are specially trained certain sports, techniques, etc. #AthleticoChat

— Heidi Lavorato (@pchsmith) January 31, 2018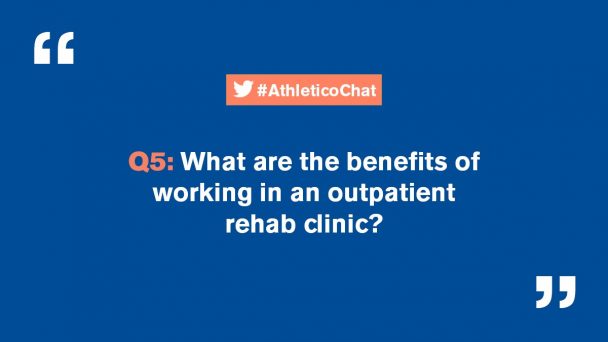 A5: There is nothing like the energy of an outpatient ortho clinic! People from all walks of life and different injuries all together in a healing space being guided by expert clinicians to return to optimal living. Hugs, hi-fives and goals being met!#AthleticoChat

— Grant Koster (@GrantKoster) January 31, 2018
A5: The benefits of working in an outpatient clinic include the variety of cases presented to you. No one patient is the same, regardless of diagnosis. You must cater treatment on an individual basis. Also, seeing patient progress back to high functioning levels #AthleticoChat

— Jason Taylor (@JTPT2015) January 31, 2018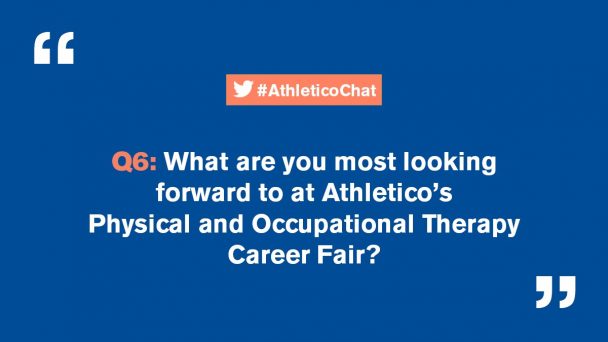 A6: my favorite day of the year! I love the excitement & all of the positive energy that each & every attendee has. It's a great opportunity to talk with our leaders, learn about the @Athletico culture and why we're the best physical and occupational therapy company to work for!

— Brittany (@britt_graber) January 31, 2018
A6: Easy one, the energy I feel & receive from interacting with new (and old) #PhysicalTherapists #HandTherapists. #infectious The day goes by faster than any other day of my year. Looking forward to seeing you-February 17th in Oak Brook, IL @athletico #careerfair #AthleticoChat

— Mark Kaufman (@Athltcoguy) January 31, 2018
These tweets are just the tip of the iceberg when it comes to great responses from our #AthleticoChat! Thank you to everyone who participated, and don't forget to sign up for our upcoming Physical Therapy and Occupational Therapy Career Fair in Oak Brook on 2/17!