Chase Corporate Challenge
Athletico's Involvement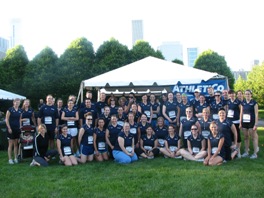 As Chicagoland's leading provider of physical and occupational therapy healthcare, Athletico is committed to educating the public about the importance of health and fitness.  There's no better way for a company to encourage its employees to live a healthy lifestyle than participating in the annual Chase Corporate Challenge.
Program Overview
Held in Chicago's Grant Park, the Chase Corporate Challenge began in 1982 with the goal of promoting fitness in the workplace.  In 2010, nearly 20,000 participants from more than 550 Chicagoland businesses came together to celebrate teamwork and healthy living.
A staple of the JPMorgan Chase Corporate Challenge in Chicago is its partnership with a worthy beneficiary.  The Greater Chicago Food Depository received a donation for each entry and the participating companies contributed generously to online and on-site food drives, with a goal of collecting 20,000 pounds of food for distribution at a network of 650 pantries, soup kitchens, and shelters.