Be the Match Foundation
Athletico's Involvement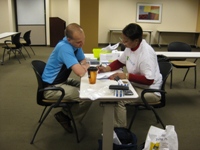 Athletico has supported the Be the Match Foundation since 2009 by hosting annual bone marrow registry drives.  Athletico employees are encouraged to register to provide hope for patients with life-threatening blood diseases.  Through these drives, we hope to increase the number of Athletico employees who are registered.
Shannon Wyatt, Athletico athletic trainer at Oak Park and River Forest High School, donated a kidney in 2008 and led Athletico to this opportunity with her sincere interest to make a difference.
Program Overview
The Be The Match Registry, the world's largest listing of potential marrow donors and donated cord blood units, raises funds to help provide transplants to all patients through the Be The Match Foundation®. The organization matches patients with donors, educates health care professionals, and conducts research through their research arm, the Center for International Blood and Marrow Transplant Research® (CIBMTR), so more lives can be saved.
Thousands of people with leukemia and other life-threatening diseases need a bone marrow transplant.  Each day, more than 6,000 people search the registry for that life-saving marrow match, but there are not enough donors on the registry.  Joining the registry is the first step to becoming a bone marrow donor.