AthletiCo Teams with Chicago Bears
Posted on
Continuing their tradition of working with Chicagoland businesses and creating long-term relationships with those companies, the Chicago Bears have partnered with AthletiCo Physical and Occupational Therapy making them the Official Physical Therapy Partner of the Chicago Bears.
              
Working with the Bears since 2002, AthletiCo's relationship includes support of the Chicago Bears' athletic training staff throughout the season.  AthletiCo's athletic training staff also assists with the Chicago Bears Youth Football Camps program and Pro Sports Experience by providing an athletic trainer.
"AthletiCo has been a terrific business partner of the Bears for some time and we're thrilled with our expanded relationship," Senior Director of Sales and Marketing Chris Hibbs said.  "AthletiCo is a great supporter of sports and recreation all across Chicagoland and a generous corporate citizen.  We couldn't be prouder of our association."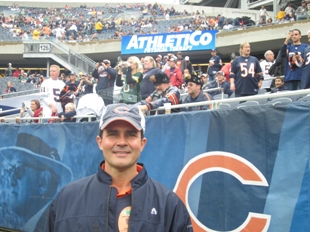 As a part of the new agreement, AthletiCo will sponsor fitness segments on ChicagoBears.com, along with increased in-stadium presence throughout the season.
"AthletiCo has enjoyed a strong relationship with the Chicago Bears organization over the past ten years," says AthletiCo president and founder, Mark Kaufman.  "The Bears are a tremendous asset to the City of Chicago and surrounding communities due to the overwhelming pride the fans have in the Bears and all the good things the organization does to support the community and its citizens.  Extending our partnership to become an official partner of the team was a natural next step in advancing and developing our brand and the work we can do together."