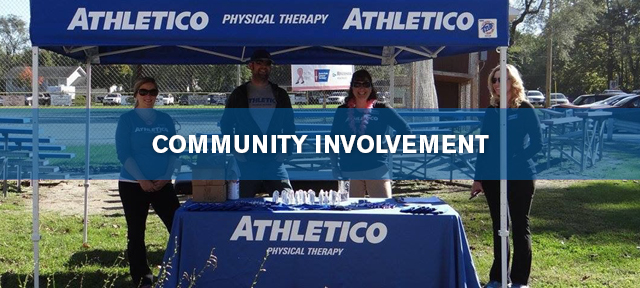 Glad to be Part of Your Community
Our team knows there's no better treatment to the community than giving back.  Since our founding in 1991, we have been committed to investing in the communities we serve.  Our enthusiastic team consistently builds better communities where they live and work through financial and in-kind support of local events and initiatives, including sports teams/organizations, community events, and philanthropic initiatives.  Throughout the year, our team members help our communities prevent injuries and live healthier lives by providing pre-and post-race stretching for community races, educational lectures, athletic training services and free assessments. 
Sponsorship & Donation Requests
As part of our mission, each year we invest in the work of numerous charitable organizations throughout the community. We look for innovative programs that address issues critical to those in need and award financial assistance to those we believe can make a real difference. Our company and charismatic team members take an active role to build better communities where we work.
Our main focus for contributions includes organizations whose mission is to support health and wellness with an emphasis on making everyday activities of daily living better. Please remember that we receive numerous requests for charitable support throughout the year and not all organizations may be able to receive support.
We use the following guidelines to evaluate sponsorship and charitable giving proposals:
If this is an Athletic Training request, please click here.
We will consider requests if sent at least six weeks in advance of the desired commitment deadline.
For any donation aside from medical or athletic training coverage, organizations are limited to one request per calendar year (or school year, where applicable).
Organizations must be based in one of the states where Athletico has clinics: Arizona, Illinois, Indiana, Iowa, Georgia, Kansas, Kentucky, Michigan, Mississippi, Missouri, Nebraska, Ohio, South Dakota, Texas, Virginia or Wisconsin, or the event must be hosted in one of those states. Organizations where Athletico operates are given priority.
Organizations must qualify as a nonprofit, tax-exempt organization under section 501(c)3 of the Internal Revenue Code and must submit Tax ID number and W-9 form. If your organization does not qualify as a nonprofit, please note this in the appropriate place on the application.
Organizations should be able to provide evidence that the request is in response to a valid need.
Organizations should be able to provide a review of financials of donations from both private and public sectors.
Organizations should be able to demonstrate effective organizational, programmatic and financial objective setting and management.
All requests must be submitted online.
The following organizations, activities or programs are not eligible for sponsorship or a charitable contribution:
Individuals
Agencies that discriminate on the basis of color, race, creed, age, sexual orientation or national origin
Political causes, candidates, legislative lobbying or advocacy groups
Endowments or memorials
Construction or capital campaign projects
Sponsorship/Donations submitted by a third party on behalf of an organization
Thank you for your interest in Athletico supporting your opportunity. We ask that all opportunities are submitted at least 60 day priors to commitment date for evaluation.
Sponsorship/Charitable Giving Application
Find an Athletico.