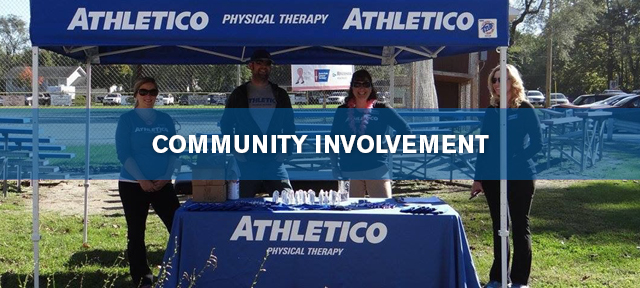 Glad to be Part of Your Community
Our team knows there's no better treatment to the community than giving back.  Since our founding in 1991, we have been committed to investing in the communities we serve.  Our enthusiastic team consistently builds better communities where they live and work through financial and in-kind support of local events and initiatives, including sports teams/organizations, community events, and philanthropic initiatives.  Throughout the year, our team members help our communities prevent injuries and live healthier lives by providing pre-and post-race stretching for community races, educational lectures, athletic training services and free assessments. 
Sponsorship & Donation Requests
As part of our mission, each year we invest in the work of numerous charitable organizations throughout the community. We look for innovative programs that address issues critical to those in need and award financial assistance to those we believe can make a real difference. Our company and charismatic team members take an active role to build better communities where we work.
Our main focus for contributions includes organizations whose mission is to support health and wellness with an emphasis on making everyday activities of daily living better. Please remember that we receive numerous requests for charitable support throughout the year and not all organizations may be able to receive support.
We use the following guidelines to evaluate sponsorship and charitable giving proposals:
If this is an Athletic Training request, please click here.
We will consider requests if sent at least six weeks in advance of the desired commitment deadline.
For any donation aside from medical or athletic training coverage, organizations are limited to one request per calendar year (or school year, where applicable).
Organizations must be based in one of the states where Athletico has clinics: Arizona, Illinois, Indiana, Iowa, Georgia, Kansas, Kentucky, Michigan, Mississippi, Missouri, Nebraska, Ohio, South Dakota, Texas, Virginia or Wisconsin, or the event must be hosted in one of those states. Organizations where Athletico operates are given priority.
Organizations must qualify as a nonprofit, tax-exempt organization under section 501(c)3 of the Internal Revenue Code and must submit Tax ID number and W-9 form. If your organization does not qualify as a nonprofit, please note this in the appropriate place on the application.
Organizations should be able to provide evidence that the request is in response to a valid need.
Organizations should be able to provide a review of financials of donations from both private and public sectors.
Organizations should be able to demonstrate effective organizational, programmatic and financial objective setting and management.
All requests must be submitted online.
The following organizations, activities or programs are not eligible for sponsorship or a charitable contribution:
Individuals
Agencies that discriminate on the basis of color, race, creed, age, sexual orientation or national origin
Political causes, candidates, legislative lobbying or advocacy groups
Endowments or memorials
Construction or capital campaign projects
Sponsorship/Donations submitted by a third party on behalf of an organization
Thank you for your interest in Athletico supporting your opportunity. We ask that all opportunities are submitted at least 60 day priors to commitment date for evaluation.
Sponsorship/Charitable Giving Application
---
Charity Partners
Here are some of the ways we serve people to make an impact in local communities:
Arthritis Foundation Heartland Region:

We work with the Arthritis Foundation to provide community outreach and education on the benefits of physical therapy for those suffering from arthritis and how to cope with it.
A Step aHead: To combat concussions in young hockey players, Athletico partners with the Chicago Blackhawks and the Amateur Hockey Association of Illinois (AHAI). This initiative provides free baseline concussion testing to AHAI members ages 13-18. In addition, Athletico supports education lectures throughout the community.
Big Brothers Big Sisters of Metropolitan Chicago: We support the mission of Big Brothers Big Sisters through various community involvement projects. Our Founder and Executive Chairman, Mark Kaufman, has previously served on the board of directors and hosts a large tailgate fundraiser each year.
The Chicagoland Hornets and Disabled Sports USA: Since 2008, we highlight National Athletic Training Month by raising money for the Chicagoland Hornets sled hockey team and Disabled Sports USA. We hold fundraisers, supply raffle tickets and make donations to help defray costs for equipment and ice time.
Denim Day Fundraisers: Throughout the year, we hold several Denim Day Fundraisers (which allow employees to wear jeans to work in exchange for making a donation) to raise money for various organizations. Among our causes are Convoy for Hope, Feed my Starving Children, Leukemia Society, Special Olympics, Wounded Warriors and Make-a-Wish Foundation. 
Feeding America: We are supporting Feeding America, the largest hunger-relief organization in the United States that provides meals to more than 40 million people each year, because its network of 200 foodbanks have been overwhelmed with increased demand and reduced inventories.
Global Medical Brigades: Our employees have traveled with the Global Medical Brigades program since 2008 to provide needed healthcare to underserved communities throughout the world. 
J.P. Morgan Corporate Challenge: This annual series of 3.5-mile road races held in cities worldwide promotes fitness in the workplace. Each year, we sponsor a team of employees to participate in the Chicago event. 
Movember: We're committed to helping men achieve optimal health, no matter what stage of life. Whether treatment is preventive or restorative, we can support men in all aspects of life. Each year, our staff rallies behind Movember through our AthletiMo's initiative by growing facial hair and raising funds to support this worthwhile cause.
Operation Walk: Members of our team travel around the globe to provide medical services that help improve mobility to those in need. We have sent our experts to Nepal and other countries where people have limited access to healthcare and physical therapy. We also provide a financial commitment to support this mission.
PT Day of Service: We celebrate National Physical Therapy Month every October as a way to recognize our therapists and the positive impact physical therapy has on people's lives. Our staff also participates in PT Day of Service, a global initiative that encourages physical therapists to give back and make a difference in their community. Staff participate through an assortment of activities, from fundraisers for a local children's hospital to corporate donations to cleaning up the highways.
Click here to read more about how Athletico gives back to the community.
Find an Athletico.