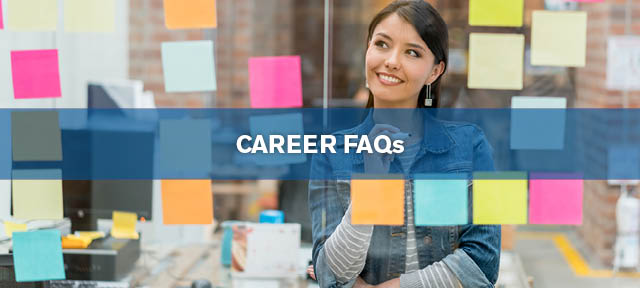 Q: When should I apply for a position at Athletico?
A: It's never too early to express interest in Athletico. For any position questions please email us at careers@athletico.com, our Talent Acquisition team is readily available to assist you.
Q:  What information should be included in my resume and cover letter?
A:  A solid resume is one of the most important tools to have in your belt when conducting your job search and building your career.  For resume tips you can reference our Resume Basics blog.
Q:  What benefits does Athletico offer?
A: A variety of benefits are available to Athletico staff, including health insurance, paid time off, and a 401 (k) with a discretionary company match.  For more details on Athletico' s benefits please visit our benefit page.
Q:  What advancement opportunities are there within the company?
A: We create opportunities for careers at Athletico, not just jobs. One way we do this is by managing Athletico talent across all of our locations—starting at mid-levels of management and higher—to enable career development and growth across many different levels of the organization. We identify talent early and prepare people through a series of varied and enriching assignments that will train them for future roles. Through a formal leadership training and mentoring program as well as real life experience, our leaders are well prepared to provide the best support to those that follow them.
Q:  What do you like best about working for Athletico?
A:  The company culture.  Everyone is incredibly nice, and helpful, and welcoming. Our CEO is extremely vested in the organization, and cares about his employees. Our Purpose and Values are the foundation on which we develop leaders at Athletico. Our shared Purpose—to help people enhance their health and quality of life—in addition to our Values—Patient Satisfaction, Accountability, Teamwork and Continuous Improvement—unify us as we collaborate as a team internally and sustain us as we engage in our service externally. Taken together, our purpose and values are the foundation for our unique culture and leadership approach.
Q:  What Continuing Education benefits (CEU) benefits does Athletico offer?
A:  Athletico is committed to excellence in the service to our patients. In order to continue to provide our patients with superior care, we provide generous continuing education benefits to our staff. We encourage all employees to develop new skills and competencies through continuing education, which includes classes, seminars, certifications, and employee training.  For more details on Athletico' s Continuing Education Benefits please our CEU page.
Find an Athletico.