AthletiCo Athletic Trainers Fundraise for the Chicago Hornets Sled Hockey Team
Posted on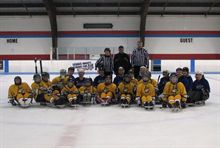 In honor of National Athletic Training Month, AthletiCo is once again marking the occasion by raising money for the Chicago Hornets Sled Hockey Team this March.  The Chicago Hornets are a sled hockey team open to anyone 20 years and younger with a physical disability who wishes to play hockey.  Their mission is to provide kids with physical disabilities the opportunity, at no cost, to learn and enjoy the game of hockey.   This is the third year AthletiCo's athletic trainers will raise money for the Hornets, having raised over $10,000 the past two years.

AthletiCo's celebration of National Athletic Training Month will include a charity sled hockey game on Sunday, March 28, 2010, from 5:10 p.m. to 6:40 p.m. at the Edge Ice Arena in Bensenville, Illinois.  The game will feature AthletiCo's Athletic Trainers competing against the Hornets Sled Hockey Team.  


"As the employer of the largest number of certified athletic trainers in the nation, AthletiCo understands the importance of creating opportunities for our athletic trainers to give back to the community," says Jason Bannack, AthletiCo's Director of Athletic Training Services.  "We have built a great relationship with the Hornets over the past few years, and it has been very rewarding to not only raise money for this organization, but to also get on the ice and interact with them on a personal level."

The Edge Ice Arena is located at 735 East Jefferson Street.  The charity sled hockey event is open to the public.  

Additional fundraising for the Hornets include an employee Jean Day Fundraiser and a raffle to win various prizes including a Chicago Blackhawks team autographed hockey stick, four (4) tickets to a Chicago Blackhawks game, and a Flip Video Camcorder.

Proceeds for all events will go to the Chicago Hornets Sled Hockey Team, part of the Amateur Hockey Association of Illinois, a 501-c3 organization.  For further information on AthletiCo's fundraising efforts, National Athletic Training Month, or to profile one of AthletiCo's Certified Athletic Trainers, please contact Maxine Olhava at 630.575.6228 or molhava@athletico.com.
Find an Athletico.