Athletico Physical Therapy Honored as One of Chicago Tribune's Top Workplaces 2016
Posted on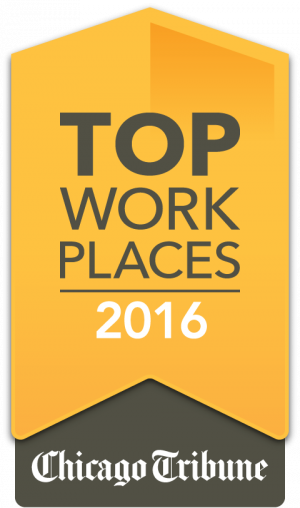 Chicago, IL – Nov. 22, 2016- Athletico Physical Therapy has been recognized as one of the area's most dynamic and supportive local businesses by the Chicago Tribune in its special "Top Workplaces 2016" issue. The Friday, Nov. 11 special edition of the newspaper identified the Chicago companies chosen for recognition by its employees. All winners were honored during the Top Workplaces 2016 event, held at Solider Field's exclusive United Club on Thursday, Nov. 10.
"We are honored to receive this recognition," CEO Mark Kaufman said. "At Athletico Physical Therapy, we fully recognize that people are our most important asset. Our success depends entirely on the strengths of our employees, so creating a healthy workplace environment is a top priority for us. I am honored to work alongside our great team who continues to advance our culture and work environment on a daily basis."
Athletico Physical Therapy joined fellow honorees and more than 700 C-level Chicago executives at the high-profile Top Workplaces 2016 awards ceremony, now in its seventh year. Companies were selected by employee surveys conducted by Workplace Dynamics that measured key qualities such as company leadership, communication, career opportunities, working environment, managerial skills, pay and benefits. The top finishers were announced during the celebratory annual awards ceremony.
"Each year, the Chicago Tribune is proud to recognize the companies that are making a real difference in the lives of their employees," said Publisher and Editor-in-Chief Bruce Dold, who served as the host of the Top Workplaces 2016 event. "This year's lineup of progressive-minded businesses reflects those qualities that truly make Chicago the City That Works."
The Chicago Tribune Top Workplaces 2016 event was presented by The Job Network and sponsored by Wintrust Financial, Cars.com, U.S. Cellular, Rivers Casino, Jack Daniel's Single Barrel Collection, 90+ Cellars and Half Acre Beer Company. The event was produced by Tribune Events Group, the Chicago Tribune Media Group's in-house events marketing team.
About Athletico Physical Therapy
Athletico Physical Therapy provides the highest quality orthopedic rehabilitation services to communities, employers and athletes in over 350 locations throughout nine states with more than 4000 employees. Athletico is committed to our patients and referring physicians through our patient-centric focus, positive work environment, attention to quality and high standard of care. Athletico measures patient outcomes and satisfaction and is dedicated to continuous improvement. Athletico was named #1 Workplace in Chicago, "Best Physical Therapy Practice in the Nation" by ADVANCE magazine, Top Workplace in the Nation, and has been recognized as a leader in employee volunteering and charitable giving. Our services include physical and occupational/hand therapy, workers' compensation, women's health therapy, concussion management and athletic training. For more information, or to schedule a free injury screening, please visit www.athletico.com and follow us on Twitter at @Athletico.
About Chicago Tribune Media Group
Chicago Tribune Media Group is a diversified media and marketing solutions company that reaches 4.9 million people each month across all platforms. CTMG's robust portfolio of media solutions includes the Pulitzer Prize-winning Chicago Tribune, and a collection of niche and digital offerings including RedEye, Hoy, Chicago magazine, Naperville Magazine, The Mash, Blue Sky Innovation,  chicagotribune.com, chicagonow.com and metromix.com. As the region's leading voice, CTMG also extends into the suburbs of Chicago through popular titles including TribLocal, The Beacon-News, The Courier-News, Lake County News-Sun, Naperville Sun, Post-Tribune in Northwest Indiana, Daily Southtown, and 32 Pioneer Press weekly newspapers.
Find an Athletico.