Complimentary Injury Screen
Athletico Physical Therapy exists to help people enhance their health and quality of life.  One of the ways we accomplish this is by offering the communities we serve a direct and free way to access our expertise.
Click to Schedule a Complimentary Injury Screen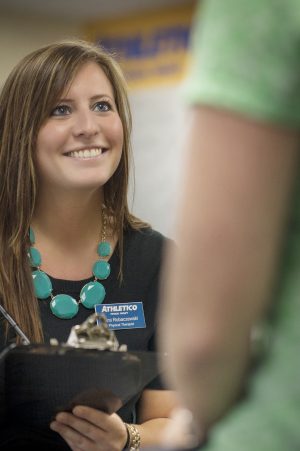 An Athletico complimentary injury screen is an approximately 30-minute assessment performed by a licensed physical therapist or occupational therapist or athletic trainer.
What to expect during a Complimentary Injury Screen:
During the assessment, a licensed healthcare professional will take a detailed subjective report of your musculoskeletal complaints, as well as assess your movement impairments and discuss how this is affecting your activities of daily living.  In addition, an assessment on joint integrity, range of motion, strength and flexibility could be performed. This will allow us to help guide your medical options.
Facilitating the Healthcare Process:
An Athletico Physical Therapy clinician will be able to recommend the best physician for your specific injury and streamline the process for you in order to see the specialist that is right for your current state and/or care needed for your condition.
A complimentary Injury screening can be setup by appointment only and will be scheduled within 24-48 hours of your initial call. Appointments can also be made by walking into one of our clinics or by phone.
Per federal guidelines, beneficiaries of federally funded plans are not eligible for complimentary injury screens.
Athletico's Complimentary Injury Screen offers
Free assessment by a licensed medical professional
Convenient and easy scheduling
Personal attention to your health
Education regarding potential injury
Injury care plan or physician referral, if needed
Peace of mind
Complimentary Concussion Screening
In addition, if you have symptoms of a concussion or are having balance difficulties after concussion symptoms subside, Athletico has vestibular physical therapists trained in concussion management who can evaluate you and provide you with the proper next steps.
---
Testimonials:
"Having been treated at Athletico a few years ago for a pinched nerve, I called for a screening appointment the day after I returned home. They were able to see me for a screening that day. It's been 2 months and my progress has been slow and the pain ever-changing, but the progress is noticeable."
– Anna C.
"I decided to get a free screening from Athletico and got referred by my doctor to regularly see a physical therapist to help me get through this injury. With many stretches and strength training exercises, along with weekly appointments where we layed out road maps for my training plan, my physical therapist (Melissa!) helped me get back on track with my training group pain-free. After about 5 weeks of rehab, I was a ble to join my original pace group on Saturday mornings for our last few long runs, that I completed without knee pain. I wouldn't be able to say this without Melissa's help"
– Gian B.
"I sprained my ankle while overseas, 4 months before a registered running race – the Rock N Roll 1/2 marathon. I was screened by Monica Caine at the Wabash Athletico location . I had also been screened at Aligned Modern Health and Novacare. The level of service, care and professionalism shown by Monica was so far above what I received at the other two facilities that I immediately began the rehabilitation process with her."
– Allan F.
---
---
Find a Location
Find an Athletico near you.