Coaching Body Contact in Hockey: Defense & Working the Boards
1 Comment
Hockey is a graceful game that requires players to participate in manner that requires body contact regardless of whether checking is permitted. Any avid hockey player can acknowledge the difference between a "body check" and "body contact" but occasionally the line can be blurred when a player's skill level is questionable and when an official's subjective interpretation is applied to the game. Within the Officials' Rules Handbook, body contact is defined as body contact allowing players to compete using proper body positioning skills to gain a relative advantage. This has been a point of education by USA Hockey to enhance a player's skill development such as skating skills, puck possession and the proper use of the body to establish puck protection positioning. What is the difference from body checking? The principles of body checking are significantly different. The purpose of a body check is to separate the opponent from the puck by using ones trunk (hips to shoulders). Contact during a body check is only permitted from the front or side of an opponent and cannot be deemed intimidating or intentionally dangerous in nature.
While the history of hockey injuries is countless in nature, it is important that we continue to analyze how our sport can be safer without compromising its foundation.  USA Hockey has taken a number of steps to promote skill and development while taking into account the human development and general safety of its participants. However, ultimately the safety of every individual playing any particular sport is a responsibility of its stakeholders. Parents, players (mites to the average adult), referees, organization committees and most importantly the coaches all play a roll in preventing/minimizing injury in our sport.  As a level 5 coach, I understand the priorities of each team are uniquely different and are designed around a team's goals for the year. With these goals in mind, it is also a requirement that we continue to promote the skills of our players to the best of our ability. Edge work, angling, proper defensive positioning, stick positioning and offensive creativity are all concepts that surround the notion of body contact and can be developed at all ages to improve the participation and development of players.
With this in mind, I ask that you consider the concept of "body contact" from the perspective of your players. As a timid and unconfident skater, it is difficulty to battle for the puck in the "dirty places" on the ice. To pursue a loose puck in the corner or along the boards may result in an awkward and potentially painful fall to the ice or the boards. How many times do you believe your players will put themselves in this situation despite your relentless instruction of the forecheck* or defensive zone coverage? How long before they decide to quit and play a different sport?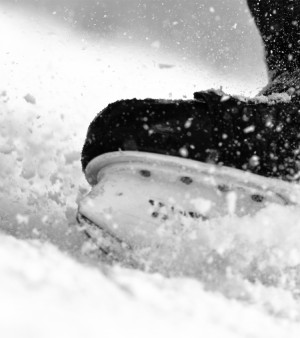 Rarely do you see one player pursue a puck in these areas uncontested. This notion itself indicates that body contact is unavoidable and that it should in fact be encouraged in a controlled environment.  Like any particular skill, the environment, the task, and the individual have to be considered for ideal motor learning and achievement of the skill. To be confident in these areas, players need to practice the skills associated with body contact repeated1. This may be the difference between sustain puck possession in the offensive zone or the defensive zone and an injury free season.
Below are some interesting sites that present body contact, checking progressions, edge work and puck possession that may be helpful to coaches of all levels.
– Puck Protection: Along the Boards
– Canadian National Team- Positioning
– Minnesota Hockey Body Contact & Checking Progression Skills for Peewees
– USA Hockey Checking Clinic for Coaches
*Forecheck- Pursuing the puck in a strategic manner within the intention of gaining possession of the puck in the offensive zone
1- Motor Control Theory and Practical Applications (2nd ed.). (2001). Philadelphia, PA: Lippincott Williams & Wilkins.