Athletico at the 5th Annual USA Rugby International Sports Medicine Symposium
Athletico past, present and future were well represented at the 5th Annual USA Rugby International Sports Medicine Symposium. The Symposium is held in conjunction with the largest gathering of international rugby teams as they travel the world in the IRB Sevens Series. This series will be used to determine who will be competing in the RIO Olympic Games. The international audience represented 20 different countries all with the purpose to provide the highest level of care to the rugby players. "Athletico has a long and rich history with rugby at the local and international level" Stated Mike Palm, Chicago Lions Athletic Trainer, conference attendee and alumni presenter. The conference sponsored in part by Athletico is the only one of its kind in the world. Bringing in an international group of presenters at the forefront of Rugby Medicine. "I was honored to be asked to present on IRB Player Initiatives'" said John Honcharuk, ATC and Athletico St. Charles Facility Manager. Honcharuk was also presented with his IRB Medical Educator License by Dr. Jonathan Hanson, MD as only one of four in the United States. Athletico President and Founder Mark Kaufman, PT, MS, AT begin in Chicago as the Head Athletic Trainer for the Chicago Lions and has supported Rugby on the local, national and international level since Athletico's inception. It was no surprise then to have somewhat of an "Athletico Reunion" at the conference. Some of the Athletico USA Rugby Alumni included Pictured below: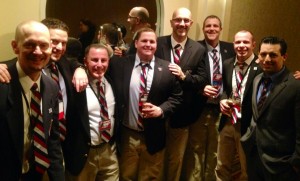 John Honcharuk, ATC –USA 7's Physio Alum, 2006 National Championship Thunderbird RFC, Fox Valley RFC, Predator RFC, Athletico Facility Manager-St. Charles Rob Wassilak, ATC – USA Eagles Physio Alum, Chicago Blaze RFC, Athletico Mike Palm, ATC, USAR Symposium Alum, Chicago Lions RFC, Athletico Regional Athletic Training Coordinator Zac Vyhnanek, DC- USA Eagles Alum, Athletico Alumni John Brandt, PT, ATC- USAR Conference Coordinator, Iowa State Rugby Medical Coordinator, 2006 National Championship Thunderbird RFC, Athletico Alumni Andrew Kushner, PT –USAR Conference Volunteer, Athletico Facility Manager-Wheeling, Ex-Rugby Player Mike Keating, ATC, USA Rugby Medical Coordinator, Athletico Alumni Alejandro Garibay, PT, ATC, USA Physio Eagles & Athletico Alumni
If you are interested in having a member of the Athletico Rugby Medical Staff to speak to your team please contact us.
Find an Athletico.