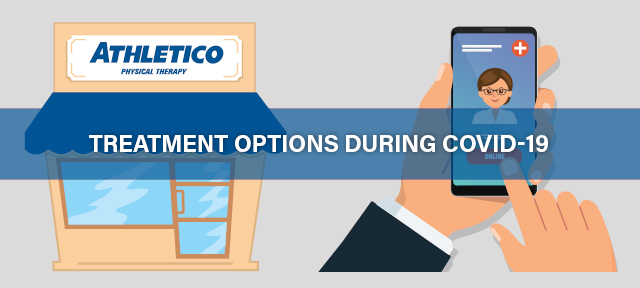 Physical and Occupational Therapy Treatment Options Available During COVID-19
Pain and injuries are never planned and if you are experiencing this you may be unsure about if seeking physical or occupational therapy treatment is appropriate and safe at this time.
During this time, our clinics will remain open to deliver on our promise of providing safe, affordable and effective rehabilitation services to all of our patients. The safety of our patients and employees is extremely important to us and we are following the guidelines of the CDC and other health authorities to provide the safest environment for all. Sanitation continues to be a top priority as we have re-emphasized to our staff the importance of keeping our facilities clean as well as practicing good hand hygiene, having adequate supplies and restricting access to the clinic. We will also be providing a telehealth or virtual care option for individuals who want to take additional safety precautions.
Early intervention of physical therapy can eliminate the need for unnecessary medication, surgery or extensive imaging tests – including X-Rays, MRIs and CT scans. Delaying treatment could mean additional expenses and prolonged pain. Request an appointment in-clinic or virtually through a secure online video chat today and start feeling better tomorrow.
Appointment Options:
In-clinic: Face-to-face treatment options with one of our experts.

Our physical therapists leverage data and the latest techniques to create effective and efficient treatment plans centered around your specific injury or pain to optimize your health. We remain focused on your progress — from your first appointment until your treatment ends.

Virtually: Through a secure online video chat

Connect with a trusted medical expert through a live internet video feed after your appointment request has been confirmed by our staff. Using a smartphone, tablet or computer with a camera, you can directly connect with an Athletico clinician for your virtual visit.
How to start your virtual visit:
Microsoft Teams:

Patients can join Teams via browser so do not need to necessarily have the Teams app to connect to the appointment
*Please note there are some telehealth restrictions with treating the Medicare population and these will be discussed with patients at time of call.

---
Athletico Physical Therapy is dedicated to providing safe, affordable and effective rehabilitation services to all of our patients whether it be in-clinic or through a telehealth virtual visit. Patients tell their story best and we wanted to share their recent successful experiences. Read their testimonials below:
"I am grateful that your group is finding ways to keep your clinics open and hands on while working through this COVID-19 health crisis." – Brent | Athletico Naperville Ogden Ave.
"Our daughter feels very safe and comfortable coming into your offices and the work she is doing with your professionals is invaluable." – Frank | Athletico Aurora Eola
"I have a great deal of confidence in working with Athletico over the past 30 years that they always do what is right for their patients. They continue to be leaders in the industry now offering telehealth." – Dr. Sherwin Ho | Professor of Orthopaedic Surgery and Rehabilitation Medicine Director
University of Chicago Medicine
---
Athletico Treatment Options Available during COVID-19:
---
Find an Athletico.