Are You at Risk for Mommy's Thumb?
Posted on
Throughout the month of April, Athletico Physical Therapy has been celebrating National Occupational Therapy Month.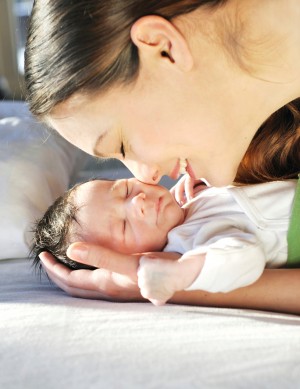 Whether it's the hand, wrist, elbow, or shoulder, our occupational/hand therapists are the premier specialists in treating upper extremity diagnoses. As we approach the celebration of Mother's Day, one common medical condition affecting many new mothers is a condition commonly referred to as mommy's thumb or De Quervain's tenosynovitis.
For a new mother navigating the uncharted waters of caring for a newborn, the last thing you want to experience is pain in your wrist or arm when lifting or nursing your child. However, due to the repetitive lifting of newborns using improper techniques, many new mothers are susceptible to a painful condition called De Quervain's tenosynovitis.
Commonly referred to as "mommy's thumb" or "new mother's disease," De Quervain's tenosynovitis is caused by the repetitive motion of placing the thumb and index finger in the shape of an "L" in the infant's armpit to lift the child. In addition, awkward positioning of the wrist during breastfeeding can lead to this condition. Pregnant and new moms are also more prone due to fluid gain and ligament laxity.
Symptoms
De Quervain's tenosynovitis is the result of inflammation of the tendons in the wrist and thumb. The inflammation restricts movement of these tendons. This condition can occur gradually or suddenly. The most common complaint is thumb-sided wrist pain that can radiate to the thumb and/or forearm.  Pinching, grasping, and other movements of the thumb and wrist may aggravate the pain.
Symptoms include:
Pain, tenderness, and swelling near the base of your thumb
Fluid-filled cyst in the area of pain with or without swelling
Difficulty moving thumb and wrist with activities involving grasping and pinching
"Sticking" sensation in the thumb when you try to move it
"Squeaking" sound as the tendons try and move back and forth through the inflamed sheaths
Causes
The cause of De Quervain's disease is unknown. However, overuse, direct trauma to the thumb and/or wrist, repetitive grasping and pinching, certain inflammatory conditions such as Rheumatoid Arthritis, and pregnancy can all trigger the disease.
If you are experiencing any of these symptoms, schedule a complimentary injury screening at your nearest Athletico center or call 1-877-ATHLETICO. Athletico's occupational/hand therapists belong to the American Society of Hand Therapists, have on average over 12 years experience, and hold the highest level of training in the profession for treating the hand, wrist, elbow, and shoulder.
Find an Athletico.