Athletico and STOP Sports Injuries Team Up for Multifaceted Partnership
Posted on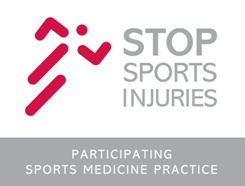 Athletico is proud to announce its partnership with the STOP (Sports Trauma and Overuse Prevention) Sports Injuries Campaign.  Athletico will provide the campaign with its full support and through the partnership hopes to increase awareness and prevention of traumatic injuries in young athletes.
The campaign, which was initiated in 2007 by the American Orthopedic Society for Sports Medicine (AOSSM), focuses on the rapidly growing incidence of injuries among young athletes and the need to reverse this trend.  Its goal is to provide leadership on the topic of safe athletic participation.  "The American Orthopedic Society for Sports Medicine is known for their strength in community service with their educational efforts and this partnership offers strong support for our similar role as healthcare providers in the field," says Jason Bannack, MS, ATC, Athletico Director of Athletic Training Services.
Led by co-campaign chair and renowned orthopedic surgeon James R. Andrews, MD, STOP Sports Injuries emphasizes the importance of sports safety, educates coaches and parents on injury prevention techniques, and highlights the benefits of playing safe and smart.  The program's goal is to make a nationwide impact through a variety of media outlets and corporate partners.  Athletico will help with local initiatives, which are crucial to the campaign's success.
"Their approach to the community advocates continued education to each critical member of the healthcare model including athletes, parents, coaches, and physicians," says Bannack.  "We are excited about the opportunity to enhance our efforts through utilization of STOP's injury prevention tips and tools to promote safety to our more than 120 affiliates, including high schools, colleges, and youth sports organizations in the Chicagoland and Milwaukee areas."
The STOP Sports Injuries educational initiative includes public service announcements, posters, DVDs, brochures and fact sheets, and electronic newsletters.  For more information about the campaign, please click here.
Find an Athletico.