AthletiCo Helps Joffrey Ballet Dancer Jaiani Get Back on Her Feet
Posted on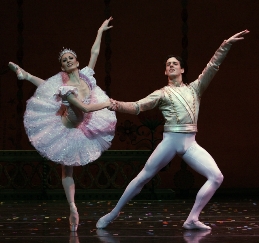 AthletiCo is the Official Provider of Rehabilitation for The Joffrey Ballet, a 53-year-old company now based in Chicago.  AthletiCo provides on-site physical therapy, massage therapy, and injury prevention support for the company's 41 dancers as well as for the Joffrey Academy students.  As one of those 41 dancers, Victoria Jaiani has a deep appreciation for the AthletiCo physical therapists who work tirelessly to promote the health and wellness of every dancer.
Jaiani, who joined The Joffrey Ballet in 2003, was born and raised in Tbilisi, the Republic of Georgia's capital and largest city.  She saw her first ballet at the State Ballet of Georgia and soon began her training at the Choreographic School of Georgia at the age of 10.  She continued her studies with a scholarship to the Joffrey School in New York six years later.  After a difficult transition that included adapting to a new country and being thousands of miles from her family, Jaiani won the bronze medal in the New York International Ballet Competition in 2003.  Shortly after joining Joffrey, she was cast as Juliet in John Cranko's Romeo and Juliet.  She has also been featured as the Snow Queen in Robert Joffrey's The Nutcracker, Cinderella in Cinderella, and Giselle in Giselle.
This summer, Jaiani suffered a back injury while dancing a special performance at the Kennedy Center in Washington, D.C.  A physical therapist on-site provided immediate care and referred her to AthletiCo for follow-up.  AthletiCo therapists Julie O'Connell, Director of Performing Arts Rehabilitation, and Jennifer Janowski helped Jaiani manage her back condition.  Janowski was able to accompany Jaiani to a visit with Craig Westin, MD, the new company doctor of The Joffrey Ballet.  O'Connell was able to treat Jaiani in the clinic and facilitated her continued treatment on a guest performance trip to Austin, TX.  Through the work of AthletiCo's team and network, Jaiani returned to Chicago without any interruptions in her treatment.  She now reports that she has not experienced any residual symptoms from her lower back injury.
"In this profession you must work every day, even when you think you've got it," says Jaiani.  "The demands I put on myself keep getting bigger."  The lofty aspirations of The Joffrey Ballet dancers are only matched by their physical therapy counterparts at AthletiCo.
The Joffrey Ballet is currently in full swing this winter season.  The Nutcracker kicks off December 10 in Chicago and will run for 16 days.  Robert Joffrey created this Nutcracker, turning a decidedly European ballet into a uniquely American experience.  The holidays are captured in 120 minutes as the entire Joffrey company takes the stage, creating the magic of the season.  The Joffrey's Nutcracker maintains the spirit of the original 1987 performance, while sparkling with contemporary choreography, dazzling costumes, Tchaikovsky's thrilling score, inventive lighting and extravagant set design.  It ignites the imagination of children of every generation.  All performances take place at the Auditorium Theatre and will feature live orchestral accompaniment performed by the Chicago Sinfonietta.  To purchase tickets to this extraordinary event, please click here.
Photo Above Taken By Herbert Migdoll
Find an Athletico.