Athletico Opens Facility in Kenosha, Wisconsin
Posted on
Kenosha-area residents who have pain from an accident, sports injury or even just everyday activities now have a new resource with the opening of Athletico Physical Therapy at 5708 B 75th Street. Athletico Kenosha offers physical therapy, sports medicine, work rehabilitation, work conditioning, and functional capacity evaluations. Transportation services are also available for those patients who require transportation assistance.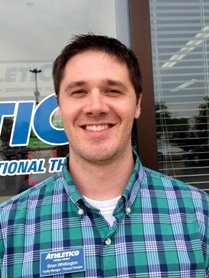 Brian Whittington, PT, DPT, serves as the facility manager and treating physical therapist for the Kenosha facility. Whittington graduated from the University of Wisconsin – Parkside with a bachelor's degree in biology and then moved on to the Medical University of South Carolina to receive his Doctorate in Physical Therapy. He began his career at Athletico's Grayslake facility in 2008 before transitioning to Kenosha.
"The Kenosha area is a growing community with a lot of opportunity," says Whittington. "I currently live in Kenosha, and I am looking forward to serving the community that I am raising my family in."
Many clinicians' interest in physical therapy begins through experiencing their own injury and rehab. For Whittington, however, it was the lack of physical therapy after an injury in high school that pushed him toward his current career. After not being prescribed physical therapy, he missed out on a season of sports due to the prolonged recovery. His interest in getting people back to doing the activities they enjoy began there. It continues to be one his favorite aspects of the job.
"I love to hear 'I was able to pick up my grandkids with no pain' or 'I was able to walk around the mall this weekend for the first time in years,'" says Whittington. "It is gratifying to be one part of the team that can return a patient back to their highest possible functional level."
Athletico Kenosha provides the community quality care and convenience through the following means:
Patient outcomes reporting using a third-party outcomes system to provide measurable data on a patient's progression that is discussed throughout the course of treatment
Patient satisfaction reporting throughout treatment in order to better understand and respond to patient needs while they are still receiving rehabilitation services, rather than after a patient is discharged
Convenient hours including early mornings, evenings, and Saturdays
Prompt scheduling of each initial evaluation within 24-48 hours of the patient's phone call
Ongoing patient education on diagnosis, treatment plans, and prescribed home-exercise programs
Clear, consistent communication between therapist, physician, and patient regarding progress
To learn more about Athletico Kenosha or to schedule a complimentary injury screening, call Brian Whittington at 262-697-9135 or email him at bwhittington@athletico.com.
Find an Athletico.