Athletico Physical Therapy Announces 10th Annual Coach of the Year Award Recipient
Posted on
OAK BROOK, Ill., January 23, 2023 — Athletico Physical Therapy is proud to announce Coach Renee Saunders of Skutt Catholic High School in Omaha, Nebraska as the recipient of the 10th annual Athletico Coach of the Year Award. The Athletico Coach of the Year Award was created to recognize coaches for all they do to serve their local communities, including sportsmanship, coaching success and classroom involvement. In addition to receiving a commemorative plaque, Coach Saunders will receive a recovery package from Athletico's partners at Hyperice, a $250 Amazon gift card, and an Athletico prize package.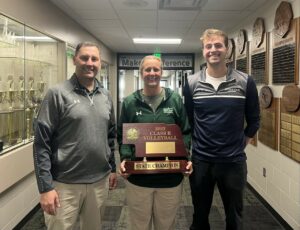 "What is impressive about Coach Saunders' nomination is that it stood out despite her team's successes on the court," said Payten Gerjerts, Director of Athletic Training Services for Athletico. "Multiple state titles is no small feat and should be applauded. However, developing a consistent culture of appreciation, respect, and positivity is what makes Coach's on-court accolades even more special. We love the core values she leads with and hope that some of the student-athletes she has coached will one day be coaches just like her. Congrats, Coach!"
Coach Saunders demonstrates what it means to be the Coach of the Year by serving as not only a coach, but also as a mentor to students by helping them learn lifelong lessons through sports and physical activity. This past season marked her 12th year teaching and coaching at Skutt Catholic as both the P.E. teacher and girls head volleyball coach. Following the 2022 season, Coach Saunders led the girls' volleyball program to win their eighth straight Nebraska state championship title, clinching the win by rallying in the final sets. Beyond her coaching duties, Coach Saunders is passionate about building lasting relationships with her student-athletes by encouraging them to focus on having fun, to respect themselves and others, and to be involved with a variety of activities. She is widely recognized for having a lasting impact on students by serving as a mentor to both current and former athletes, investing time in getting to know them individually, and helping them achieve their personal and athletic goals.
"Coach Saunders embraces sportsmanship in almost every aspect of her coaching style, from instilling these values in her athletes to cheering on and encouraging opposing teams," said Mike Volz, Athletic Trainer at Skutt Catholic and Coach of the Year nominator. "She has had an incredible impact on her athletes during her time at Skutt Catholic, empowering them to become the best version of themselves outside of their sport. Coach Saunders' positivity, humility and passion for coaching and mentoring are truly inspiring to our community."
The Coach of the Year Award is open to any junior high or high school level coach within the states of Arizona, Arkansas, Delaware, Georgia, Illinois, Indiana, Iowa, Kansas, Kentucky, Maryland, Michigan, Mississippi, Missouri, Nebraska, North Carolina, Ohio, Oklahoma, Pennsylvania, South Carolina, South Dakota, Texas, Virginia, West Virginia, Wisconsin or Washington, D.C. Nominations are open to the public and submitted via an online entry form. Nominators were required to explain why their coach should be recognized. A selection committee within Athletico reviews the nominations before selecting a winner. Nominations for the 2023 Coach of the Year Award will be accepted in fall 2023.
Additionally, Athletico will open nominations for its 2023 Athletic Trainer of the Year Award on March 1, 2023. Learn more at: www.athletico.com/atoftheyear.
###
About Athletico Physical Therapy
Athletico Physical Therapy is a leading provider of the highest quality orthopedic rehabilitation services to communities, employers and athletes. With the recent acquisition of Pivot Physical Therapy, Athletico operates more than 900 locations in 24 states and the District of Columbia. We are committed to our patients and referring physicians through our patient-centric focus, inclusive work environment, and attention to quality and high standard of care. Delivering market-leading patient outcomes and satisfaction are at the core of what we do, as measured by our industry leading patient satisfaction scores and recognition as a National Top-Tier Provider by the CMS Quality Payment Program. We are also passionate about giving back to the communities we serve through outreach, volunteer and fundraising initiatives supported by the Athletico Cares Foundation. Our comprehensive services include physical and occupational therapy, workers' compensation and onsite employer services, athletic training, and over 50 specialty services, including free assessments, pelvic health, spine health, hand therapy, concussion management, and more. For more information, or to find an Athletico clinic near you, visit www.athletico.com.
Media Contact:
Dana Andreoli
Athletico Physical Therapy
dana.andreoli@athletico.com
630-259-5156
Find an Athletico.