Athletico Physical Therapy Announces 3rd Annual Coach of the Year Award Winner
Posted on
Oak Brook, IL—Athletico Physical Therapy is proud to announce Mark Hoekstra, Head Coach of the Carlisle High School varsity football and track and field teams, as the winner of the 3rd annual Athletico Coach of the Year Award. In addition to receiving a commemorative plaque, Coach Hoekstra received four tickets to the Big Ten Football Championship game held on December 5, 2015 at Lucas Oil Stadium in Indianapolis. The Athletico Coach of the Year Award was created to recognize coaches for all they do to serve their local communities, including sportsmanship, coaching success and classroom involvement.
"While we received many worthy nominations this fall, overall we felt Mark stood out amongst his peers." said Mike Overturf, Director of Athletic Training Services at Athletico. "The Athletico Coach of the Year is more than a record.  It is a person who empowers athletes, strengthens their skills, and inspires players to be teammates on and off the field. Mark was an excellent representation of what we look for with this annual award. We are proud to be affiliated with Carlisle High School and work alongside Coach Hoekstra."
Nominated by multiple individuals within Carlisle High School and within the community, Coach Hoekstra has shown high levels of excellence within his role. The Wildcats finished the 2015 season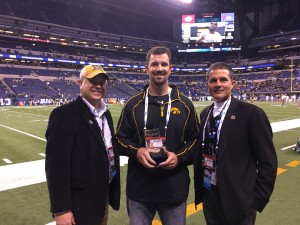 with a 6-4 record and were eliminated in the first round of playoffs, however Coach Hoekstra's success shines through his ability to motivate his players, truly listen to them, and to gain their respect.
In addition to his success on the field, it was Coach Hoekstra's focus on community involvement that lead to his selection. Coach Hoekstra has been an excellent role model for Carlisle's student-athletes and for the school's younger coaching staff. Young coaches and student athletes alike look to Coach Hoekstra for advice and reassurance. Mark has showcased a willingness to go the extra mile to create a family environment among his teams, and has empowered players to be leaders, within the school and the community.
"First of all I want to thank Athletico. Everyone from the athletic trainers who provide coverage at our school up to the CEO of the company has proven to be first people from a first class organization." said Mark Hoekstra. "I am honored to receive this award on behalf of the Carlisle High School football program. There were many people responsible for this to happen. The players, coaches, parents, fans, community members and administrators all make up Carlisle football in some way. We put a lot of pride in trying to run a program that develops the complete student-athlete on and off the field. The fact that we were recognized for this is very gratifying."
The Coach of the Year Award was open to any junior high or high school level coach within the states of Arizona, Iowa, Illinois, Indiana, Michigan, Missouri, Ohio, South Dakota, or Wisconsin. Nominations were open to the public and submitted via an online entry form.  Nominators were required to explain why their coach should be recognized. A selection committee within Athletico reviewed the nominations before selecting Coach Hoekstra as the winner. Nominations for the 2016 award will be accepted next fall.
Find an Athletico.