Athletico Physical Therapy Opens Facility in Palos Heights, Illinois
Posted on
Athletico opens its newest physical therapy clinic in Palos Heights to offer residents relief from pain, injuries, accidents, and everyday aches. Athletico Palos Heights is located at 7130 W. 127th Street, Suite A. This clinic has state of the art rehabilitation equipment and a welcoming environment to improve the patient experience and encourage the healing process. The services offered at Athletico Palos Heights include Physical Therapy, Orthopedic Rehabilitation, Sports Medicine, Complimentary Injury Screens, Work Rehabilitation, Video Throwing Analysis, Video Gait Analysis, TMJ Therapy, and Athletic Training Outreach. For patients who require assistance traveling to their appointment, transportation services are available.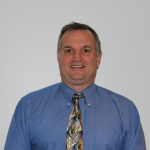 Jim Beese, PT, ATC, MOMT serves as the facility manager and treating physical therapist at the Palos Heights facility. Jim graduated from St. Louis University with a B.S. in Physical Therapy and became an Athletic Trainer after completing an internship program through Morraine Valley & Wheaton College Athletic Training Program.  His education continued with a two year graduate fellowship program receiving a Masters of Orthopedic Manual Therapy from the Ola Grimsby Institute. Throughout his career as an educator, speaker and holding various sports medicine positions such as Rehabilitation Consultant for the Chicago White Sox and Team Physical Therapist for the Chicago Fire Soccer Club, Jim has always put the patient first.
"Palos Heights is a great community, and I'm excited to be the Facility Manager, and treating Physical Therapist at our Palos Heights facility," states Beese. Jim has worked exclusively in outpatient orthopedic since 1986, accounting for 28 years of industry experience, and will bring his clinical interests of treating shoulder and elbow injuries with a focus on throwing injuries, ankle and foot injuries and has advanced training in spine pathology.
Athletico Palos Heights provides the community quality care and convenience through the following means:
Patient outcomes reporting using a third-party outcomes system to provide measurable data on a patient's progression that is discussed throughout the course of treatment
Patient satisfaction reporting throughout treatment in order to better understand and respond to patient needs while they are still receiving rehabilitation services, rather than after a patient is discharged. Results show that 98% of our patients would recommend us to their friends and family.
Convenient hours including early mornings, evenings, and Saturdays
Prompt scheduling of each initial evaluation within 24-48 hours of the patient's phone call
Ongoing patient education on diagnosis, treatment plans, and prescribed home-exercise programs
Clear, consistent communication between therapist, physician, and patient regarding progress
To learn more about the Athletico Palos Heights clinic or to schedule a complimentary injury screening, call Jim Beese at (708) 361-0033 or email him at jbeese@athletico.com.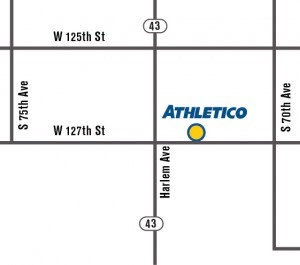 Athletico Palos Heights
7130 W. 127th Street, Suite A
Palos Heights, IL 60463
Phone:   (708) 361-0033 / Fax: (708) 361-0066
Web: www.athletico.com/palosheights
Find an Athletico.