Athletico Physical Therapy Opens Facility in Woodstock, IL!
Posted on
Athletico opens its newest physical therapy clinic in the city of Woodstock, Illinois. This facility, managed by Lisa Shaffer, PT, DPT, is committed to offering residents relief from pain, injuries, accidents, and everyday aches. Athletico Woodstock is located at 113 S. Eastwood Dr., close to the McHenry County Fairgrounds. This easily accessible facility is located near downtown Woodstock, providing patients with excellent, friendly, and patient centered care. The services offered at Athletico Woodstock include physical therapy, orthopedic rehabilitation, treatment of endurance athletes and runners, video gait analysis, work conditioning, functional capacity evaluations, athletic training outreach, transportation service and complimentary injury screens.
Lisa Shaffer, PT, DPT serves as the facility manager and treating physical therapist at the Woodstock facility. "One of my favorite things about being a physical therapist is when a patient comes in and tells us the difference we made in their lives. Knowing that we helped to improve someone's quality of living is so rewarding and it gives us a tremendous amount of satisfaction," explains Shaffer. Lisa attended The University of Michigan for her undergraduate studies, and then obtained her Doctorate of Physical Therapy from Northwestern University's Feinberg School of Medicine.
Lisa's specialties as a physical therapist include working with athletes, specifically runners, and performing video gait analysis. She knew physical therapy was the right career choice early on in her life. "I was always interested in medicine and wanted to be an orthopedic surgeon growing up. I had a knee injury in high school and I ended up in physical therapy. My physical therapist was a family friend and she encouraged me to look into physical therapy as a career since I liked orthopedics so much" shares Lisa.
Athletico Woodstock provides the surrounding community with quality care and convenience through the following means:
• Patient outcomes reporting using a third-party outcomes system to provide measurable data on a patient's progression that is discussed throughout the course of treatment
• Patient satisfaction reporting throughout treatment in order to better understand and respond to patient needs while they are still receiving rehabilitation services, rather than after a patient is discharged
• Convenient hours including early mornings, evenings, and Saturdays
• Prompt scheduling of each initial evaluation within 24-48 hours of the patient's phone call
• Ongoing patient education on diagnosis, treatment plans, and prescribed home-exercise programs
• Clear, consistent communication between therapist, physician, and patient regarding progress
To learn more about the Athletico Woodstock clinic or to schedule a complimentary injury screening, call Lisa Shaffer at (815) 334-0400 or email her at lshaffer@athletico.com.
Athletico – Woodstock, IL
113 S. Eastwood Dr.
Woodstock, IL 60098
Phone: (815) 334-0400
www.athletico.com/woodstock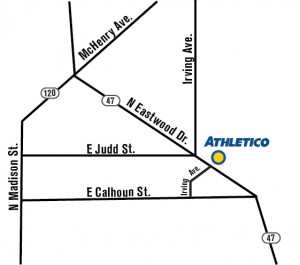 Find an Athletico.