Athletico Physical Therapy Renews Partnership with Detroit Red Wings
Posted on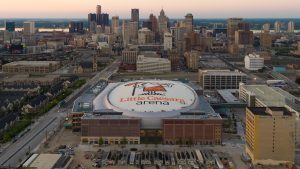 Oak Brook, Ill. — Midwest-based Athletico Physical Therapy today announced it has renewed its partnership with the Detroit Red Wings, ahead of the 2017-18 National Hockey League (NHL) season. The affiliation marks an exciting continuation for Athletico, a leader in the field of therapy, orthopedic rehabilitation, sports medicine and athletic training, and the Detroit Red Wings, an Original Six™ franchise moving to brand new Little Caesars Arena in the heart of Detroit and within one of the largest sports and entertainment developments in the country, The District Detroit, for the 2017-18 NHL season.
"We are very pleased to continue our partnership with the Detroit Red Wings as they begin an exciting new chapter of their storied franchise," said Mark Kaufman, Founder and President of Athletico. "After two productive years, our partnership with the Red Wings continues to be a great fit for our company as we expand in the Detroit Metro Area and throughout the state of Michigan."
The partnership includes signage in the new Little Caesars Arena for all Red Wings games and Olympia Entertainment events, as well as digital and social media exposure. Additionally, Athletico will sponsor and provide post-race stretching for runners at the Hockeytown 5K on September 10, an annual event bringing together runners from across Michigan for a day of fun and activities for the whole family. For more information on the Hockeytown 5K, visit DetroitRedWings.com/Hockeytown5K.
"Athletico is a valued partner, and we're excited to extend our relationship as we continue to prepare for the Inaugural Season at Little Caesars Arena," said Tom Wilson, President and CEO of Olympia Entertainment. "We look forward to having physical therapy experts from Athletico on-site to provide stretching and cool-down techniques following the Hockeytown 5K, a fan-favorite event set to take runners through portions of The District Detroit and culminating at Little Caesars Arena."
In addition to the renewed partnership with the Detroit Red Wings, Athletico is expanding its presence in the Detroit Metro Area, with the recent opening of the Ann Arbor and Southfield facilities, as well as new facilities in Grand Rapids and Jackson Southeast.
Athletico Physical Therapy has 14 locations in the Metro Detroit area and 29 total locations throughout the state of Michigan.
###
ABOUT ATHLETICO
Athletico Physical Therapy provides the highest quality orthopedic rehabilitation services to communities, employers and athletes in over 380 locations throughout ten states with more than 4000 employees. Athletico is committed to our patients and referring physicians through our patient-centric focus, positive work environment, attention to quality and high standard of care. Athletico measures patient outcomes and satisfaction and is dedicated to continuous improvement. Athletico was named "Best Physical Therapy Practice in the Nation" by ADVANCE magazine, Top Workplace in the Nation and has been recognized as a leader in employee volunteering and charitable giving.  Our services include physical and occupational/hand therapy, workers' compensation, women's health therapy, concussion management and athletic training. For more information, or to schedule a free injury screening, please visit www.athletico.com and follow us on Twitter at @athletico.
ABOUT THE DETROIT RED WINGS
The Detroit Red Wings hockey club, an Original Six member of the National Hockey League and 11-time Stanley Cup Champion, was purchased by Mike and Marian Ilitch in 1982. Under Ilitch ownership, the team has won four Stanley Cup championships, six Presidents' Trophies as the NHL's regular season champion, and 16 division titles.  Other Ilitch companies in the food, sports and entertainment industries include: Little Caesars Pizza, Blue Line Foodservice Distribution, the Detroit Tigers, Olympia Entertainment, Olympia Development of Michigan, Little Caesars Pizza Kit Fundraising Program, Ilitch Holdings, Inc., MotorCity Casino Hotel and Champion Foods. For more information, visit www.DetroitRedWings.com.
Find an Athletico.