AthletiCo Provides Athletic Training Coverage to Northwestern's Winning Women's Lacrosse Team
Posted on
For the past two lacrosse seasons, AthletiCo's Juliet Barnes, ATC, PES has served as the assigned athletic trainer for Northwestern's championship-winning Women's Lacrosse team.  As their athletic trainer, Barnes provides evaluation and assessment of injuries, pre- and post-practice treatments, and practice coverage.  In addition, she coordinates and attends most doctor appointments, assists with the rehabilitation needs of injured athletes, travels to all away games, and works closely with the rest of NU's Athletic Department.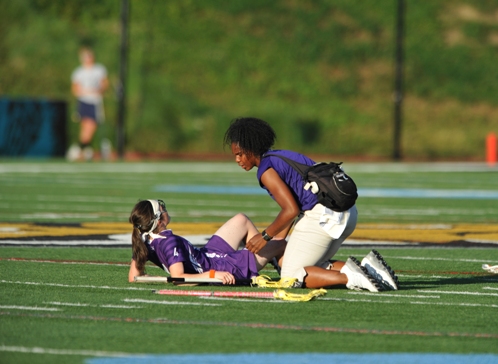 "Having the opportunity and privilege to work with such a prestigious university and world-class team is truly a blessing," says Barnes, who appreciates working with elite student athletes and a coaching staff that respects her abilities.  "I am also proud to say that the student-athletes I treat are extremely hard working and willing to do whatever it takes to be successful both on and off the field." 
The women's lacrosse team is coming off its sixth-straight 20-win season and American Lacrosse Conference championship.  Last year, the Wildcats were the national runner-up, posting a 20-2 record, while having five players named IWLCA All-Americans.  Northwestern also extended its NCAA-record home-winning streak to an incredible 58 games, while setting a program record with 41 consecutive victories dating back to the 2008 season.  
A typical women's lacrosse practice schedule is six days a week for roughly two hours each practice.  Throughout preseason, Barnes provides treatments for an hour and a half before and after each practice.  Additionally, more than three hours are devoted to rehabilitation appointments in the afternoon.  And that's just during preseason.  The regular season brings with it an even more grueling schedule, but one Barnes does not mind at all.
"One of the main reasons I love being an athletic trainer is the thrill and reward of helping an athlete recover from an injury, from the daily rehab that goes into it to ultimately seeing them perform in a game."
This year, Barnes has two Sports Medicine Assistants who help with her daily responsibilities.  These two undergraduate NU students are interested in pursuing careers in the field of medicine, so the program is a great way for athletic trainers such as Barnes to provide mentoring, education, and honest insight into the world of sports medicine.  Also working with Barnes are Dr. Carrie Jaworski (Primary Care Physician), Dr. Sherrie Ballantine (Doctor of Osteopath), and Dr. Sara Edwards (Team Orthopedist). Together, they form a medical team that provides world-class care to the dedicated athletes on Northwestern's Women's Lacrosse team.
Since 2004, AthletiCo has partnered with Northwestern University Athletics as the Official Provider of Physical and Occupational Therapy.
Find an Athletico.