Athletico Ranks in Leading 10 Percent of Nation's Top Workplaces
Posted on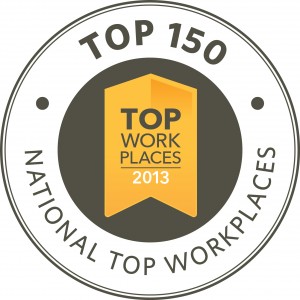 Athletico Physical Therapy was named one of America's Top Workplaces for 2012, ranking #79 nationwide among 872 organizations with more than 1,000 employees that participated in regional top workplaces programs. Genuine core values, a positive environment, and high standard of care are just some of the attributes employees noted that put Athletico Physical Therapy on the list as one of America's Top Workplaces.
The National Top Workplaces list is issued by Workplace Dynamics, LP. WorkplaceDynamics surveyed more than 5,000 organizations, polled 1.7 million people and handled more than a million employee responses to determine this ranking.  Athletico participated in the Chicago Tribune's Top Workplaces 2012 program.
"We know our success is based on the strength of our staff that recognizes the vital role they play in providing the ultimate customer service experience," said Mark Kaufman, Athletico founder and President.  "It's so rewarding to see these values translate into what makes a quality and top workplace."
The survey uses a set of 22 questions to rank companies with the data showing that it's not so much the perks that matter but that employees most want to work at companies with high levels of organizational health that are going places.  Companies that set a clear direction for their future; execute well; and create a strong connection with employees by showing appreciation and bringing meaning to work are the healthiest.
"It was great to review the feedback and the results.  Receiving support for what we are doing right along with some guideposts for improvement is essential for us to continue and evolve our company and culture," Kaufman said.
Athletico also was recently named the 2012 Practice of the Year from ADVANCE for Physical Therapy and Rehab Medicine magazine which based its distinction on the company's ability to grow with real diversification while balancing patient care and physical therapist job satisfaction.
For more information about the National Top Workplaces, a full list of the Top 150 companies and Workplace Dynamics, visit www.topworkplaces.com and www.workplacedynamics.com.
Find an Athletico.