Athletico Schaumburg Receives 2nd FOTO Outcomes Excellence Certificate
Posted on
Athletico Schaumburg has once again been awarded an Outcomes Excellence Certificate from Focus On Therapeutic Outcomes, Inc. (FOTO®), a nationwide outcomes database and reporting service for healthcare providers. These certificates are presented to a select group of providers across the country to recognize the excellence achieved in effectiveness of treatment during the past twelve months. Athletico Schaumburg has demonstrated a greater increase in function for their patients than the national aggregate average.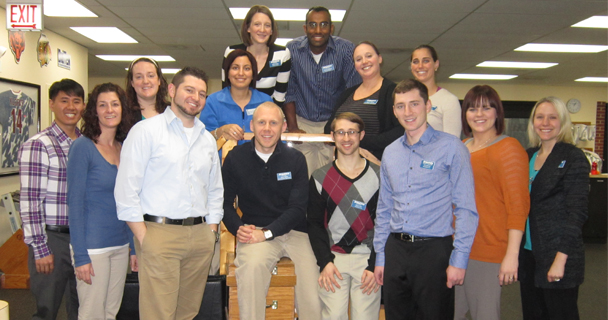 Located at 50 West Schaumburg Road, Athletico Schaumburg is one of 69 Athletico physical therapy centers throughout Illinois, Wisconsin, and Indiana and was one of the first Athletico facilities to pilot the use of FOTO back in July 2010.  In March 2011, all Athletico facilities began measuring functional patient outcomes and patient satisfaction with national data comparison.
"Athletico Schaumburg was instrumental in implementing FOTO's outcomes and satisfaction measurement system throughout a company of Athletico's size," says Daphne Scott, PT, DSc, one of Athletico's regional managers who spearheaded Athletico's involvement with FOTO. "To be able to see such positive results so soon after implementation takes incredible commitment, and the staff at the Schaumburg facility should be recognized for their efforts in bringing quality into significant focus at Athletico."
FOTO outcomes data is beneficial because it provides a benchmark measure for overall quality and value of the services offered by an organization. When patients receive treatment from Athletico Schaumburg, they are receiving treatment that has documented effectiveness and efficiency.
"Athletico Schaumburg has proven the quality of their care by exceeding the average performance data of all the progressive organizations across the country who are part of the FOTO network," says Al Amato, FOTO's President.
To learn more about Athletico Schaumburg, visit www.Athletico.com/schaumburg.
Find an Athletico.