Athletico's Bisi Akindele Heads to the National Championship with the Chicago Force
Posted on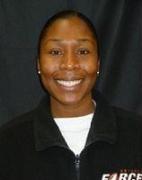 As the head athletic trainer for the Chicago Force, Athletico's Bisi Akindele has her work cut out for her. For those unfamiliar with the Chicago Force of the Women's Football Alliance, they are not playing powderpuff football – it is pads-and-helmet-wearing, full tackle football.  Keeping a team healthy in a full contact sport is no easy task.  It is Bisi's job to make sure that the ladies stay healthy and injury-free during practice and games.
Bisi recently traveled with the team to Pittsburgh as they played for the national championship at Heinz Field, home of the Pittsburgh Steelers.  She and the team were part of history, participating in the first ever women's tackle football championship to be held on an NFL field.  Although the game ended in a heartbreaking loss for the Force, the experience was one that Bisi will never forget.
What is your role with the Chicago Force?
I am the head certified athletic trainer for the Chicago Force and have been with the team since they first partnered with Athletico in 2006.
What does a typical week look like during the season?
A typical week with the Chicago Force keeps things interesting because they have two different outdoor turf fields to practice at during the week, as well as one indoor turf field as a backup if the weather is not conducive to practice in. The Chicago Force practice on Mondays in Bensenville and Thursdays in Melrose Park. Saturdays are typically game days, either at home or away to destinations as far as Kansas City, Missouri, during the regular season and as far as Dallas, Texas or Seattle, Washington for playoffs. Outside of all this, my Athletico cohorts, Jackie Prusinski, Assistant ATC, and Linda Torres, ATC at the Athletico Andersonville, assist with injury screens.  I manage to get injured players into a clinic for a screen and into Dr. Weber's office, as she is our team physician.  I also accompany players on their visits to the doctor.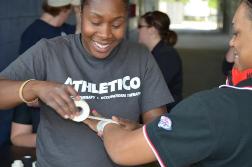 What do you enjoy most about your role with the Force?
I really enjoy the variety and diversity of things I get to do, see, interact with, and explain on a daily basis. There's never a dull moment dealing with the Chicago Force staff, GM, coaches, and players.
What is the most challenging aspect of your job?
Dealing with individuals that live in different areas of Illinois, Wisconsin, and Indiana that sustain an injury and making sure they get the proper care that is needed in a timely manner.  Also, dealing with each of these players' medical insurance.

What was it like to be part of the first ever women's tackle football championship to be played in an NFL stadium?
Absolutely amazing, the energy took over the stadium! There was excitement in the air as we drove through the gates of Heinz Field, and it continued as we entered the visitors' locker room. The anticipation and nervousness were felt as the Force stood in the tunnel waiting to take the field.  When the team was announced and the crowd cheered, I thought to myself that this is amazing.  I am blessed to be able to be a part of this organization and the 40th anniversary of title IX. First time women's tackle football was aired on TV and first time played in a NFL stadium – I can say I am a part of Title IX history!
What advice would you give an aspiring athletic trainer?
Be dedicated to what you do, don't cut corners, be involved, and enjoy what you do because it makes being an athletic trainer so much easier. Also, listen to your athletes. Don't always go by the book when it comes to taping them because no one person's body is the same as another. Last, but not least, expand your knowledge; learn about things that you may not think will affect an athlete's performance, such as medications and allergies. Strive to be great and gain the confidence of your players, coaches, parents, and staff.
Find an Athletico.