Athletico's Corporate Challenge Female Team Places 1st in Women's Division
Posted on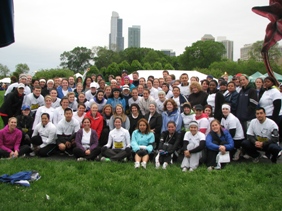 Awesome news! We are proud to announce that our Athletico Corporate
Challenge Female Team placed 1st overall for the female teams at the Chicago event last
month, beating out over 200 other corporate teams! An additional
shout out to Colleen Burke (Athletico Lincoln Park/Clybourn) on tying for 5th overall
within the Individual Female results (over 8,000 female participants
crossed the finish line).
The
31st Annual JPMorgan Chase Corporate Challenge took place on May 24 at
Grant Park and brought together a near-record crowd of 23,030
participants from 628 companies to benefit the Greater Chicago chapter
of the American Red Cross and Chicago Run.  Athletico once again took
part in this event, having over 100 employees participate in the 3.5
mile run/walk.
Thank you to everyone who participated in the Corporate Challenge this year and making the event such a success!

As
Chicagoland's leading provider of physical and occupational therapy,
Athletico is committed to educating the public about the importance of
health and fitness.  There's no better way for a company to encourage
its employees to live a healthy lifestyle than participating in the
annual JPMorgan Chase Corporate Challenge.
Find an Athletico.