AthletiCo's Nestor Battung Receives the National Sports Massage Achiever Award for 2010
Posted on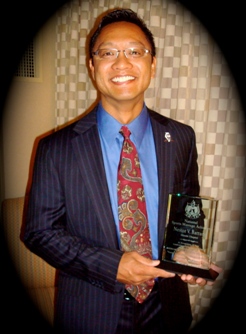 AthletiCo would like to congratulate Nestor Battung, Licensed Massage Therapist, AthletiCo Oak Brook, on his National Sports Massage Achiever Award.  Battung was honored by the National American Massage Therapy Association at their annual convention in September.  Through his work with the Chicago Cubs, Chicago Fire, Chicago Storm, U.S. Men's and Women's National Soccer teams, Joffrey Ballet, and the Ohio State men's basketball team, Battung has developed a sterling reputation in the sports world.  A practicing LMT since 2000, he also volunteers his time at several local high schools and has worked with members of the PGA Tour, Chicago White Sox, and Chicago Blackhawks, as well as many distance runners and triathletes.
After taking an introduction massage therapy course in 1998, Battung's interest in the subject quickly grew and he enrolled in the Chicago School of Massage Therapy (now Cortiva).  He followed their structured program in Sports Massage and Trigger Point Therapy from 1999 through 2000 and joined AthletiCo in 2004.  In January, he entered The Soma Institute's Master in Clinical Massage Therapy Program after graduating on the President's Honor List.  Battung completed this 300-hour program and says he owes a great deal of credit to the advanced training Soma provided him.
"Soma has guided, informed, and educated me with their Master Program, which has helped increase my level of respect in the massage community," says Battung.  "The education I received there also renewed my focus and vision as to how massage therapy can be used to treat all types of individuals with varying medical conditions."
Battung says that his most memorable experience as a LMT was traveling with the Women's Full National Soccer team.  He spent hours working with the athletes to decrease the cramps, strains, and sprains commonly experienced by soccer players.  "Although I've had many memorable experiences working with professional athletes, being a massage therapist is always a fulfilling job.  Seeing a patient improve as a result of the work I do is rewarding because I know I'm making an important difference in their life."
Find an Athletico.