Donation Fulfills Bob Bauman Endowed Scholarship in Athletic Training
Posted on
Over the past two years, the Saint Louis University Athletic Training Program has been fundraising to endow the Clarence A. "Bob" Bauman Endowed Scholarship in Athletic Training. Thanks to a generous gift from Mark Kaufman, CEO of Athletico Physical Therapy, the endowment has attained its funding standard and a student will be awarded the scholarship this fall.
Athletic Training Program Director Anthony Breitbach, Ph.D., is excited at the possibilities the donation brings. "Such generosity will allow the SLU AT Program to recognize a deserving student who embodies the spirit of Doc Bauman who paved the way for our profession in St. Louis through his professionalism, work ethic, clinical skill and tireless dedication to the profession."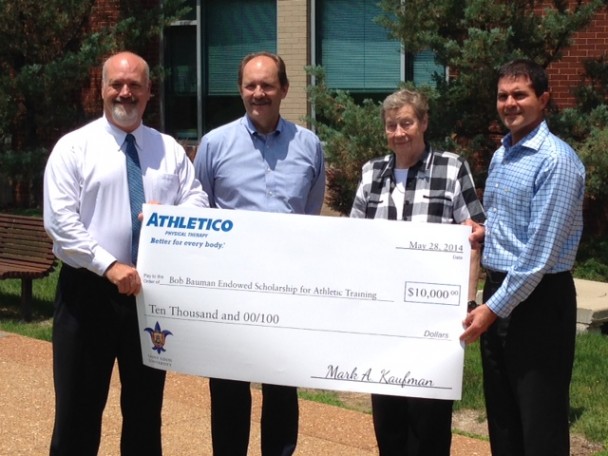 The Clarence A. "Bob" Bauman Endowed Scholarship in Athletic Trainingwill provide tuition support for outstanding students in SLU's athletic training education program during their final year of study.
"It is great to support the growth of the Athletic Training Program at Saint Louis University, where they take an interprofessional approach to health care," said donor Mark Kaufman. "The SLU graduates we have at Athletico in physical therapy, occupational therapy and athletic training are outstanding health professionals."
The Saint Louis University Athletic Training Society, the AT Program's student association, also contributed recently, raising $6,500 through the Second Annual Bowl-a-Thon Fundraiser. The fundraiser, along with Kaufman's donation, and the help of the Go Further Campaign, brought in a total of $33,000 toward the $50,000 goal that was achieved in order to award the scholarship.
The Bauman Scholarship fundraising effort was led by a trip of SLU alumni and Billiken Hall of Famers: J. Kim Tucci, co-founder of The Pasta House Co.; Scott Highmark, senior vice president at Morgan Stanley Smith Barney; and Bill Hopfinger, founder and president of Rehab 1 Network.
Bauman, the long-time Billiken athletic trainer who passed away in 1999, took care of SLU's student-athletes for more than five decades and is enshrined in the Billiken Hall of Fame. Bauman's impact on St. Louis sports isn't limited to Biliken Athletics, he also served as the St. Louis Cardinals' athletic trainer for nearly 50 years and was inducted into the Missouri Athletic Trainers Association Hall of Fame in 1984.
Athletico Physical Therapy was founded in 1991 in Chicago. Today, Athletico has facilities throughout Illinois, Wisconsin and Indiana, employs more than 1,400 clinical and administrative staff and offers more than 40 specialty rehabilitation, outreach and fitness services. Athletico's team of specialists includes physical therapists, occupational therapists, certified athletic trainers, personal trainers, strength and conditioning specialists, and massage therapists.
To donate or learn more about the Bauman Endowed Scholarship in Athletic Training at Saint Louis University, please contact Steve Sievers, Doisy College of Health Sciences Development Director, at 314.977.8322 or ssiever1@slu.edu.
Find an Athletico.