National Athletic Training Month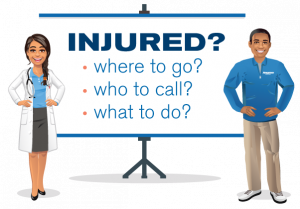 Injured and don't know where to go, who to call or what to do?
Athletic trainers can be a great resource when it comes to facilitating a trip to the emergency room, deciding if you can wait to be seen at an urgent care facility or if you can go to your primary care doctor. Certified athletic trainers are here to support you.
ATHLETIC TRAINER:
You may see an Athletic Trainer for…
Minor muscle strains or ligament sprains
Muscle and Bone contusions
General Soreness
When you visit with your Athletic Trainer, you can expect them to ask questions about your injury, test your range of motion or strength as well as administer special tests to help evaluate your pain. Whatever your injury or concern is, the certified athletic trainer can help direct you to where you need to go.
SPORTS MEDICINE PHYSICIAN:
You may be referred to a Sports Medicine Physician or Primary Care Physician for…
Moderate to severe muscle strains
Moderate ligament sprains
Lingering pain or discomfort lasting a period of time
Concussion symptoms
An appointment is required for this evaluation where you will receive an in-depth one-on-one evaluation of your injury with possible imaging (x-ray/MRI) performed during this appointment. Make sure to leverage your Athletic Trainer to expedite your appointment.
URGENT CARE:
You may be referred to an Urgent Care facility or walk-in clinic for…
Common illnesses, such as colds, flu, ear aches, sore throats, migraines, and low-grade fevers
Possible broken bones
Minor injuries, such as sprains, cuts and burns
Moderate pain that has not improved in 24 hours
Some urgent care facilities have scheduled appointments slots and others may be "walk-in" clinics. Either way your injury/concern will be addressed, many times with medications for illnesses or follow-up instructions with your primary care physician.
EMERGENCY ROOM:
You may be referred to the ER if you are experiencing…
Major Trauma or Accident
Trouble breathing
Heavy, uncontrollable bleeding
Possible broken bone or loss of movement
Loss of Consciousness
Heart/Chest Pain
Severe pain anywhere on the body
Severe Allergic reaction to food, animal or bug bites
When attending the emergency room you will be seen in order of injury severity. Wait times can varying significantly, especially if you injury/concern is not serious or life threatening.
---
THE RICE CONCEPT – What is it? Why use it?
Use the R.I.C.E approach (rest, ice, compression, elevation) if you experience any muscle, joint, or ligament injury to relieve pain, control swelling and help promote early healing.
REST
Take a break to initiate the healing process. Any activity that increases pain and discomfort should be stopped.
WHY? Continuing activity may increase damage and may lead to further injury.
ICE
Apply ice packs to the injured area for 10-15 minutes at a time, 3 or more times a day. Be sure not apply ice directly to the skin, wrap the ice pack in a towel before applying.
WHY? Cold treatments help reduce pain and swelling. Controlling and reducing swelling is the first step in the recovery process – getting a head start will ensure a speedy recovery.
COMPRESSION
Apply a compression wrap to the injured area if possible. This can be in tandem with ice and also applied after treatment.
WHY? Compression reduces swelling, increases circulation and provides support to the injured area.
ELEVATION
Prop the injured limb up on some pillows as you rest.
WHY? Keeping the injured area above your heart will encourage the swelling to be absorbed by the rest of your body.
---
Sources:
Becker's Hospital Review: Study: 71% of ED Visits Unnecessary, Avoidable – 2013 https://www.beckershospitalreview.com/patient-flow/study-71-of-ed-visits-unnecessary-avoidable.html
Safe Kids Worldwide: Changing the Culture of Youth Sports Report – 2014 http://www.safekids.org/research-report/research-report-changing-culture-youth-sports-august-2014
LaBella, C., MD, FAAP, Henke, N., Collins, C., & Comstock, R. D., PhD. (2012, October 22). A Comparative Analysis of Injury Rates and Patterns Among Girls' Soccer and Basketball Players At Schools with and without Athletic Trainers From 2006/07-2008/09. Lecture presented at AAP National Conference and Exhibition in Hilton Riverside -Grand Salon D19/D22, New Orleans.
Find an Athletico.