In-Network Insurance Plans
At Athletico, the well-being of our patients is our primary concern. We strive to give our patients the optimal treatment and encourage patients to call us with questions regarding insurance coverage and benefits. We are more than happy to help patients gain a clearer understanding of their insurance coverage and claim procedures.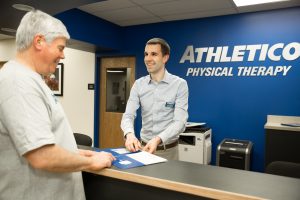 Athletico Physical Therapy acquired Accelerated Rehabilitation Centers and all its brands, including ProRehab and Newsome Physical Therapy, creating one of the largest physical therapy providers in the Midwest. Please note different locations of Athletico may accept different insurances based upon their company.  To learn more about the individual coverage available at each location, please select your state below:
About Your Coverage
As a courtesy, we will verify your coverage with your insurance carrier. Please note that verification of coverage is only a quote and not a guarantee of payment. We encourage you to call your insurance company and also to verify benefits. They may ask you what type of location or "place of service" our clinics are classified as; you can inform your insurance carrier that our place of service is eleven which just means (office setting). We will file directly with your insurance company for services rendered. To assure the highest level of coverage, we encourage you to be aware of limitations and requirements that your insurance plan might have.
Athletico offers flexible payment options, contact our office for details at 630-575-6260.
Please contact the Billing Center at 630-575-6250 if you have any questions regarding coverage of your insurance carrier or insurance carriers not listed. You may also call any Athletico clinic near you with insurance questions.
Some common requirements and limitations include:
Co-pay required by the patient at the time of service
Referrals required from Primary Care Physicians (PCP) at the initial visit
Therapy visit limitations per calendar year
Pre-Certifications
Deductible and co-insurance obligations
Should insurance payments be delayed, reduced, or denied, we will expect payment from you the patient, or responsible party. For your convenience, we accept personal checks, money orders, Visa, Discover, and MasterCard.  You can now pay your bill online.
*The above insurance information is not applicable to workers' compensation patients.