Research
Athletico's Athletic Trainer, David Heidloff is featured in MOR's new Research Article on ACL Functional Sports Assessment
Midwest Orthopaedics at Rush (MOR) has developed a functional sports assessment (FSA) to evaluate ACL injury risk factors on postoperative patients. The assessment has been valuable in identifying weaknesses and risk factors at the 5-6 month time period. Read more here.
---
Athletico Physical Clinician, Jessica Fulton, PT, DPT, HFS, Published Two Articles 

Athletico clinician Jessica Fulton, PT, DPT, at our Hyde Park Clinic had one article published on Injuries Seen During Intensive Dance Training in the Journal of Dance Medicine and Science and a different article published about Previous Injuries Causing Neuromuscular Re-Injury Risk Factors in The International Journal of Sports Physical Therapy. Read both here.
---
Athletico Clinician Publishes First Book
Athletico clinician and blogger, Liz Hoobchaak, PT, DPT, published her first book Taking Control: Ways to Minimize Your Lower Back Pain and Prevent Future Episodes by Changing How You Move. The book is available through Amazon.
---
Athletico Clinician Authors Chapter in Book
Athletico St. Charles's John Honcharuk, ATC, CSCS, authored a chapter, "Injury, Rehabilitation, Fitness and Optimum Health," in the book Results Fitness.
---
Justin Payette, PT, is Published in the Journal of Orthopaedic and Sports Physical Therapy

Justin Payette, PT at Athletico Berwyn, has completed his sports certification residency.  As part of his residency he helped with a research study on concussions, " Prevalence of Neurocognitive and Balance Deficits in Collegiate-Aged Football Players Without Clinically Diagnosed Concussion" published in Journal of Orthopaedic and Sports Physical Therapy.
---
Dan Gutierrez, OT,  Nicole Kauppila, OT and Kathy Vucekovich, OT Contribute to New Book

Athletico Occupational Therapists Dan Gutierrez, Nicole Kauppila and Kathy Vucekovich contribute to the new book from the American Society of Hand Therapy, Tendon Injuries in the Hand and Upper Extremity: a Masters Skills Publication.  Click Here for more information on this book.
---
Jeannie Hopf (Hartley), PT, Publishes Research on Upper Extremity Impairment
Athletico Portage Park physical therapist, Jeannie Hopf (Hartley), recently contributed to a research article in Disability and Rehabilitation Journal entitled, "Three-dimensional shoulder complex kinematics in individuals with upper extremity impairment from chronic stroke."
---
Amy Knuppe, PT, Publishes Research on Stiff Knee Gait

Athletico's Amy Knuppe, PT, and several colleagues recently completed research regarding stiff knee gait in children with cerebral palsy.  Their paper, titled Prolonged Swing Phase Rectus Femoris Activity is Not Associated With Stiff Knee Gait in Children With Cerebral Palsy: A Retrospective Study of 407 Limbs, will be presented in April.
---
Daphne Scott, PT, DSc, Publishes New Research
Athletico's Daphne Scott, PT, DSc, recently published a case study in the Journal of Manual and Manipulative Therapy examining the relationship between low back-related leg pain and treatment options. The case study, Application of a classification system and description of a combined manual therapy intervention: a case with low back related leg pain, addresses the multiple factors that can cause low back-related leg pain and the importance of identifying the source of symptoms in order to develop an appropriate intervention program.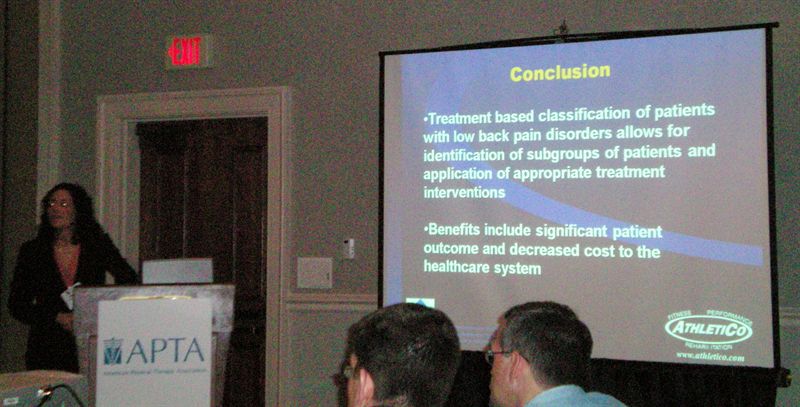 Scott was interested in this case specifically based on the lengthy duration of the patient's symptoms, as well as her previous clinical knowledge of these cases existing in the literature.  She found that this case study may benefit clinicians in identifying patients who meet this specific clinical presentation as well as by supporting some options for treatment intervention.  In addition, by identifying the clinical pattern discussed in the case study earlier, a patient may benefit from more accurate intervention to support resolution of symptoms.
---
Athletico PTs to Present Case Studies at APTA Meeting
Julie O'Connell, PT, ATC, Director of Performing Arts Rehabilitation, will be presenting a case study at the upcoming Combined Section Meeting for the Performing Arts Special Interest Group of the American Physical Therapy Association on February 12 in New Orleans.  Jennifer Janowski, PT, will also be presenting a poster for the research she has done with students from Northwestern University.
Other Research News
Daphne Scott, PT, DSc, presented at the APTA's Combined Sections Meeting under the Orthopedic Section Programming.  Scott presented a platform presentation on the Use Of Treatment-Based Classification Groups Produces Significant Outcomes In Patients With Low Back Pain. In addition, Scott also presented under the Research Section of the APTA within the Biomechanics Special Interest Group.  For this presentation she discussed the pilot information from her current project regarding patellofemoral pain in females and explaining the use of biomechanical analysis in the clinical setting.
Mary Ellen Bulow, PT, DPT, Clinical Education Coordinator, Athletico Glenview, had a research article published in the March 2008 issue of the Journal of NeuroEngineering and Rehabilitation.  To view the full published article, "A New Measurement Method for Spine Reposition Sense," please click here.
Athletico announces Orthopedic Residency and Orthopedic Manual Physical Therapy Fellowship training program with Evidence in Motion.


---
Athletico's Research Mission
Athletico's research mission is to investigate aspects of sports and non-sports injury evaluation, treatment, and prevention in order to provide optimal treatment interventions.  Recent work has addressed such subjects as Lumbar Spine outcomes and a concussion program.  In addition, the Research and Education Department privded support for a research project titled "Athletic Trainer's and Physical Therapist's Perceptions of the Effectiveness of Psychological Skills within Sport-Injury Rehabilitation Programs."
Additional projects within the Research and Education Department include a post-surgical protocol database allowing our therapists immediate access to physician's post-surgical protocols.  This provides our patients with effective physician/clinician communication before the patient is even seen, leading to increased quality of care.
Contact Information
For more information regarding Athletico's Research and Education Department, please e-mail continuing.education@athletico.com.