Many people see or hear Athletico Physical Therapy and relate our name to the treatment of athletes or joint replacement rehabilitation. However, Athletico offers a variety of quality care options, including Pediatric Physical Therapy!
Approximately 50 of our clinicians are pediatric specialists. From the ages of 0 to 18 our clinicians LOVE kids and have taken additional courses to specialize in the treatment of diagnoses specific to infants and children. With a strong orthopedic background, Athletico Pediatric Specialists think outside of the box when treating children. For example, in an infant with torticollis (tilted head and neck tightness), we can use specific massage and taping techniques built upon our years of previous experience in manual therapy and taping.
Athletico pediatric specialists often work with children who have orthopedic conditions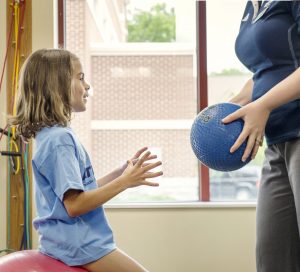 Their goals are to get them back to a full level of function. To do this, in addition to the quality care offered, our pediatrics team goes above and beyond to make physical therapy fun! New and creative ways to do so stay top of mind of our therapists! Whether creating an obstacle course, playing a balancing game, or smearing putty on a wall, kids become stronger and accomplish their goals while never really feeling like they are in therapy.
We want everyone to be involved
When working with an Athletico Pediatric Specialist, the physical therapist, patient, parents and physician are involved at all levels of care. This begins by developing trust with every guardian, educating them about their child's condition and always including them in the child's rehabilitation plan. Furthermore, Athletico physical therapists take pride in building relationships with pediatricians, as well as pediatric orthopedic specialists. Whenever possible, we look to meet with your preferred physician and/or pediatrician to ease communication and provide a continuum of care at all levels. This type of relationship amongst the patient, parent, physical therapist, and physician creates the optimal treatment experience.
Common diagnoses our Pediatrics Physical Therapists treat include:
Torticollis
Plagiocephaly
Developmental Delay
Cerebral Palsy
Muscular dystrophy
Toe-walking
Down's Syndrome
Growth-plate injuries
Sports-related injuries
Come to your local Athletico today and see what our therapists can do for you and your family!
Learn more at athletico.com/pediatrics
Click to Request an Appointment Today
The Athletico blog is an educational resource written by Athletico employees. Athletico bloggers are licensed professionals who abide by the code of ethics outlined by their respective professional associations. The content published in blog posts represents the opinion of the individual author based on their expertise and experience. The content provided in this blog is for informational purposes only, does not constitute medical advice and should not be relied on for making personal health decisions.