The third stretch for August is called the Spider Stretch.
This wrist extension stretch is pretty simple and can help with carpal tunnel syndrome (CTS) symptoms. There is no equipment needed to perform this stretch, and it can be done in either a seated or standing position. It is important to note that if you are experiencing finger or elbow pain/injuries, you should not practice this week's stretch. Prior to beginning any exercise program, it is recommended to consult with your physician, physical or occupational therapist to determine which exercises are best for you.
How to perform the Spider Stretch:
Press your palms together and point your fingers down. Keep your elbows bent and in line with each other as shown in the photo. Your wrists are now in extension and this is where you will feel the stretch. Hold this position for no more than 10 seconds. If you experience numbness or tingling, do not complete.
Do 10 repetitions three to five times a day to get an active reset from repetitive activities.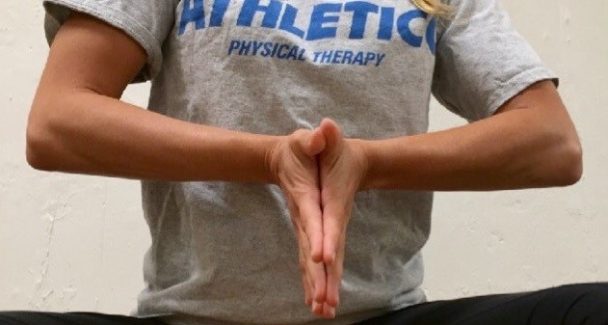 Questions? Email me at rachel.lackowski@athletico.com
The Athletico blog is an educational resource written by Athletico employees. Athletico bloggers are licensed professionals who abide by the code of ethics outlined by their respective professional associations. The content published in blog posts represents the opinion of the individual author based on their expertise and experience. The content provided in this blog is for informational purposes only, does not constitute medical advice and should not be relied on for making personal health decisions.