If you have filed a workers' compensation claim, you may be asked to participate in a functional capacity evaluation (FCE) during your recovery process.
Before taking this evaluation, however, it is important to understand what to expect. Although there are several different reasons as to why someone may be referred to complete an FCE, the article below will provide a basic understanding: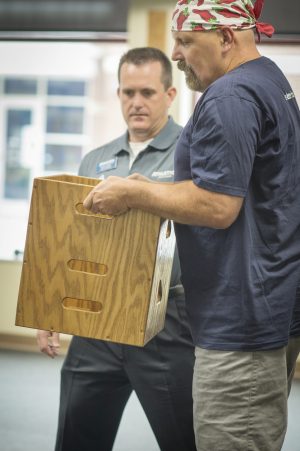 1. What is an FCE?
FCE is an acronym for "functional capacity evaluation." This is a medically ordered test for an injured worker who is being treated under a workers' compensation claim. The test is typically ordered by a physician; however lawyers, employers and insurance companies may request an FCE in certain circumstances.
2. Who will be at the appointment?
An injured worker and a licensed health care provider will be at the FCE appointment. The health care provider could be a physician, physical therapist or athletic trainer. Injured workers should not bring family or friends to their appointment.
3. Why was I asked to participate in an FCE?
An FCE is asked to be completed so that a medical document can objectively outline what aspects of work can and cannot be completed for the injured worker. Additionally, the report may outline potential adaptive strategies to help facilitate the worker's return to their job. In some instances, the FCE may be used for an individual who is filing for long term disability so that a medical document can be provided to help in the decision process.
4. When will I participate in an FCE?
An FCE is typically completed at the end of the therapy process; however all clients may not have therapy before an FCE. The doctor will decide the best course of treatment based on the injury. The worker may be approaching a release from care following an injury and the FCE will help the medical team decide what the next steps should be for preparing to return to work or for the continuation of therapy.
5. How will the FCE be completed?
The licensed health care provider will ask the injured worker about their job and the physical requirements being performed. Before testing, the worker should ask their employer for a job description to bring to the FCE. If one is not available, the health care provider will ask questions at the beginning of the FCE to outline the physical requirements of the worker's job. Based on this information, the health care provider will assess a variety of areas, including:

Material handling (lifting, pushing, pulling, carrying)
Positional tolerance (squatting, kneeling, walking, reaching, bending, sitting, standing, crawling, balance, etc.)
Objective measurements for injured body parts (range of motion, muscle strength, circumferential measurements for swelling,  etc.)
6. Where will I take an FCE?
FCEs are medical tests that should be conducted at a medical facility like Athletico Physical Therapy. Depending on the state where the worker's compensation claim was filed, The injured worker may have the option to select the location for their FCE.
For more information about your states laws, request an appointment at your nearest Athletico location.
Click to Request an Appointment
The Athletico blog is an educational resource written by Athletico employees. Athletico bloggers are licensed professionals who abide by the code of ethics outlined by their respective professional associations. The content published in blog posts represents the opinion of the individual author based on their expertise and experience. The content provided in this blog is for informational purposes only, does not constitute medical advice and should not be relied on for making personal health decisions.