Chances are you have heard the month of November referred to as "Movember" several times over the last few years. While the first thing that comes to mind is probably mustaches, it is important to know that there is a bigger cause behind the Movember movement.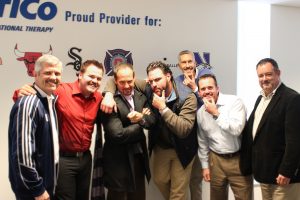 Movember brings awareness to common men's health issues, such as cancer and heart disease, as well as highlights the benefits of living a healthy lifestyle. Athletico supports the Movember movement via our AthletiMo team, which anyone can join to help raise funds and spread the word about men's health.
Learn more about how you can participate with the AthletiMo's by checking out the guide below:
1. Grow a Mustache
Anyone can join the AthletiMo team to help raise funds and spread the word about men's health. Those that join can choose to grow a mustache or simply share information about the cause on their social media accounts.
It is important to note that those who do grow a mustache can share pictures of their progress via social media (use the hashtag #AthletiMo) and ask others to donate in support of men's health. What's more, the mustache is a great talking point throughout the month to generate conversations and awareness for the cause.
2. Take the Move Challenge
Since Movember highlights the importance of living a healthy lifestyle, another way to participate in the movement is by getting physically active with the Movember Move Challenge.
The Move Challenge is a great option for those who want to participate with the AthletiMo's but don't want to grow a mustache. This is because the Move Challenge motivates participants to get active, but allows them do it on their own terms. To participate, join the AthletiMo team, create your own individual Move Challenge goal (i.e. go rock climbing, walk three miles a day, join a new class at the gym, etc.) and track your progress. Then, make sure to share your progress with friends and family via social media and ask them to support you by donating to men's health.
3. Donate
If you don't have the time to join the AthletiMo team and grow a mustache or take the Move Challenge, you can donate to the cause instead. Simply visit the AthletiMo page and choose an amount to donate toward men's health. No donation is too small!
Stay Healthy
Athletico is committed to helping our patients live a healthy lifestyle and get back to doing the things they love.
With November's focus being on men's health, we encourage all men to take steps toward living a healthier life by staying active, maintaining a good diet and taking early action when experiencing health issues. Athletico also supports men's health through our variety of orthopedic and rehabilitation services as well as free assessments. If you are experiencing unusual aches and pains, take a step toward living a healthier life by clicking the button below to request a free assessment at your nearest Athletico location.