The thank-you note is an important piece of correspondence that can help set you apart from other candidates during the job search process.
To send a thank-you note after your interview, you must remember to gather the names and contact information for each person you meet during the interview. Once you have this information you can start writing. Read below for some tips on how to craft a great thank-you note.
Purpose and Etiquette
A thank-you note is always appropriate so you will never misstep by sending one. The best time to send one is after an interview – both phone and in person. This note has a number of purposes. Not only is it polite, but it also enables you to convey gratitude for the interviewer's time. What's more, the thank-you note is an opportunity to reiterate your interest in the position and remind the interviewer of one or two of your stand-out qualifications.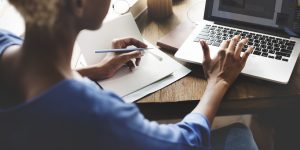 Emailed vs. Handwritten
In the digital world we live in, using email to send a thank-you note is perfectly acceptable and welcomed by most employers. An emailed thank-you note is especially appropriate after a phone interview or if the employer is working on a shortened timeline.
On the other hand, a handwritten thank-you note is a nice touch that employers will appreciate because they aren't received as frequently. After in-person interviews, you can consider sending both an emailed and handwritten thank-you note. That said, make sure the notes contain different wording.
Content and Format
The thank-you note that you write to follow up an interview does not need to be long, but should be thoughtful and contain a few important elements, such as:
Greeting – You can address the interviewer by his or her first name if this is how you had been communicating prior. However, if the interviewer has been signing communications with his or her first and last name, use the more formal greeting, such as "Dear Mr. Jones" or "Dear Ms. Doe."
Gratitude – The first sentiment in your note should express gratitude for the interviewer taking the time to meet with you.
Time, place & position of interview – You'll want to include these details to help the interviewers remember exactly who you are, especially if you mail your note.

"Thank you for your time to interview me for the XXXX position on November 14."
Mention a detail – This will demonstrate your interest in the position and that you care enough to pay attention to small details.

"I enjoyed our conversation and learning more about Athletico's Core Values and how they are lived out in the clinics."
Highlight your skills – Reiterate your interest in the position and why you're a great fit by mentioning skills or experiences.
Conclusion – Close with how you are looking forward to hearing from the interviewer (based on the timeline that was given to you). You can also close by mentioning something personal you learned during the interview.

"I look forward to hearing from you the week of November 14, as we discussed in the interview."
It is, as always, the small details that will help you stand out during the job search process. This is why it's important to take good notes in your interview and show the employer that you're a stellar candidate with an excellent thank-you note that includes personal touches.
Click the button below to browse our physical therapy career opportunities!