If you pursue a position within a larger organization like Athletico, meeting with a corporate recruiter will likely be the first step in the interview process.
Corporate recruiters are trained professionals who have experience interviewing and vetting candidates. The goal for these recruiters is to match the right candidate with the right position. If you find yourself working with a corporate recruiter during the job search process, check out the tips featured below from Athletico's own Talent Acquisition Team.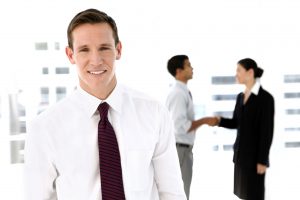 Be honest: In order to be matched to the right position for your skillset, it is important that you are honest with the recruiter that you are working with. This includes sharing your goals, qualifications, experiences and preferences. Being honest will help the recruiter better understand you so that he or she can find the best fit for you within the organization.

They're your cheerleader: Keep in mind that corporate recruiters are looking for reasons to present you to hiring managers. They want to be your cheerleader, so share enough relevant information to help them advocate you for the position.
Follow up: Reaching out once shortly after meeting with a corporate recruiter is appropriate and appreciated. Following up shows that you're engaged and interested in the position, which are qualities that the recruiter is likely looking for in the candidates they send to hiring managers! That said, avoid calling multiple times in a short timeframe.

Ask for clarity: Inquiring about the hiring process and timeline will help you determine your own follow-up timeline. Plus, the recruiter will be more than happy to share this information with you! He or she wants you to be as informed as possible.
Keep them informed: Just as you'd want to be informed of the company's hiring timeline and process, the recruiter wants to know the same about you. Keep the recruiter you're working with updated on significant steps in your job search, such as other final interviews and offers. The recruiter may be able to help expedite your process with their company, which helps you consider all of your options before committing to a new job.
The best thing to keep in mind when working with a corporate recruiter is that these individuals are partners and advocates for you. They're usually your first stop when applying with a large organization and can answer many questions to help you throughout the interview process.
Click the button below to view career opportunities with Athletico.
The Athletico blog is an educational resource written by Athletico employees. Athletico bloggers are licensed professionals who abide by the code of ethics outlined by their respective professional associations. The content published in blog posts represents the opinion of the individual author based on their expertise and experience. The content provided in this blog is for informational purposes only, does not constitute medical advice and should not be relied on for making personal health decisions.