One way to streamline the job search process is by attending a career fair that is relevant to your industry. Oftentimes, career fair attendees are able to connect directly with company representatives at these events.
Athletico Physical Therapy hosts an annual career fair that enables attendees to meet and connect with the company's management team and leaders. Attendees are able to learn about Athletico's culture, commitment to continuing education, and the variety of programs Athletico offers, including women's and men's health, pediatrics and vestibular rehabilitation.
To highlight the benefits of attending a career fair, Athletico employees who have attended the career fair prior to being hired are sharing their stories.
---
1. Why did you decide to attend Athletico's Career Fair?
Jennifer Warning (JW), PT, MPT, CCCE: I decided to attend Athletico's career fair because I was finishing up my last two clinical rotations in the spring before graduation, and I still did not know if I wanted to work in outpatient orthopedics or neuro rehab after graduation. The career fair gave me an opportunity to speak with multiple people within the company as well as have an interview. This was an easy way to practice my interview skills.
Nathan Sels (NS), PT, DPT: I was a student at Athletico completing my second to last rotation for school and my clinical instructor recommended I attend.
---
2. What stands out about the Athletico Career Fair?
JW: The fact that Athletico has so many specialty areas of physical therapy for their clinicians to practice was most attractive to me. I was passionate about treating dancers, so knowing that Athletico supported the development of its clinicians' passions was important to me.
NS: There were so many employees there to answer any questions I had, allowing me to understand the company I may have a chance to work for.  We went to the Oak Brook clinic and it was unlike any facility I had ever seen before.
Pamela Tomlinson (PT), PT, DPT: There is a lot of excitement with attendees going around to all the perspective programs that we make available.
---
3. Describe the overall experience at Athletico's Career Fairs.
NS: When I first attended, I had the chance to meet Mark Kaufman, Mike Dralle and Doug Butikofer. Three people who over the next 10 years would help shape the physical therapist I have become and the career I have achieved.
PT: It is a positive experience with a lot of encouraging potential new hires. The ones ready to take on the Athletico culture tend to stand out more than others.
---
4. How long did it take for you to get hired after attending the career fair?
JW: It took me a couple months to get hired after the career fair. I interviewed at two different locations before finding the best fit for me.  
NS: Approximately two weeks.
PT: I can't recall the specific time frame, but I know that the Career Fair jump-started the hiring process.
---
5. What has your career with Athletico been like?
JW: I have been an employee with Athletico for 11 years, and am very happy I decided to work in outpatient orthopedics. I really enjoy manual therapeutic techniques and the company has supported me in treating dancers.
NS: My career has been filled with so many advancement opportunities, including clinician, assistant facility manager, golf program manager, facility manager and regional manager. It has allowed me to consistently challenge myself and the skills I have while being rewarded for the effort I put in for the company.
---
6. What is your favorite part about your job?
JW: My favorite part of my job is being able to change a patient's biomechanics, alignment, or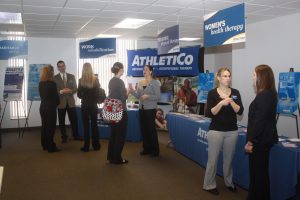 strength and directly see improvements in their daily function.
NS: I now have the opportunity to recruit and hire other therapists and help them not only meet their physical therapy education needs, but also career goals.
PT: The relationships that I build with particular physicians and my patients. It has helped me build a very busy practice.
---
7. What advice would you give to someone who is contemplating attending Athletico's upcoming career fairs?
JW: I would suggest signing up for the career fair. When looking for a job, it is important to gain as much information as possible from all employers to make an educated decision and determine which company is the best fit for you.
NS: Wayne Gretzky said you miss 100 percent of the shots you don't take.  Why miss this opportunity to find a home for your career?
PT: It gives you great exposure to a group of people who can influence your career. It is absolutely worth the time and experience interviewing/meeting a wide range of employees.
---
8. What advice would you give to someone who has already registered for Athletico's Career Fairs?
JW: I would recommend you look at our website to learn more about the company to be prepared with questions.
PT: Make sure that your resume is up to par. Be yourself and express areas that you are interested in exploring within the company.
---
9. Why should a PT, OT or AT choose Athletico?
JW: Athletico really supports you as a clinician by offering many CEU (continuing education unit)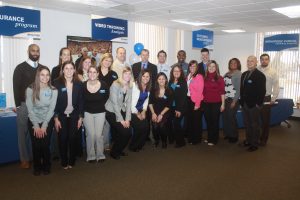 courses to enhance your skills in whatever area you are passionate about. There are also mentorship opportunities to learn from other clinicians.
NS: We are an outpatient orthopaedic practice being managed and run by other clinicians.  That alone is hard to find any more in the field.
PT: Athletico provides opportunities that other companies cannot. There is not only the ability to grow in a team setting, but also to grow your independent specialty skills. Athletico provides a platform for an individual to truly succeed as a PT.
---
10. What advice would you give to someone just starting their PT/OT/AT career?
JW: I recommend you to look at all your employment options and to follow your passion. I found a company that fit me best, and I have been here for 11 years now. This was my first job as a new grad.
NS: The most important thing to find is an organization that can help progress your clinical skills and career. If you find that and the environment matches, that trumps all other factors.
PT: Explore all your options – find different specialties that keep you excited about going to work every day. Also, align yourself with one or two docs. They can make your whole practice.
---
Register Now
It is important to evaluate all of options before committing to a new job. By attending Athletico's Career Fair, attendees will be able to learn about our company, culture and commitment to continuing clinical education. Those who register ahead of time to Athletico's Oak Brook or St. Louis Career Fair can also secure an interview spot for the day of the event. We hope to see you there!
Register for Oak Brook Career Fair