Have you ever had a patient who sustained a work-related injury with subjective report of radicular symptoms? A patient involved in a motor vehicle accident with report of symptoms radiating down the arm? A lower back injury, with the patient reporting symptoms down into their glutes? AND ALL IMAGING IS NEGATIVE????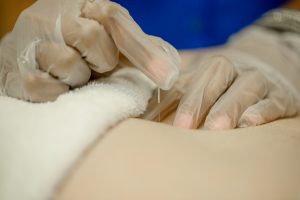 Oftentimes people think that pinched nerves can be the only source of radiating pain. Myofascial trigger points, which are defined as hypersensitive spots in a palpable taut band of muscle, can also be the source of referred pain. Active trigger points can be a source of spontaneous pain and when palpated can reproduce the patients symptoms, which may radiate down the extremities. Consistent with this phenomenon, Qerama et. al. concluded approximately one-third of the patients referred for Carpal Tunnel Syndrome had trigger points in the infraspinatus that caused symptom reproduction.4
Dry needling may be a consideration to include in this patient population's plan of care.
What is Dry Needling?
Dry needling is a technique that uses a fine needle to penetrate the skin and muscle with the intent of treating myofascial trigger points.1 Dry needling restores homeostasis at the site of the myofascial trigger points, which results in less tenderness of the muscle with palpation.1 As Nunoz-Cortet et al. explains, following the technique there is a "liberating of endogenous opiod peptides, favoring tissue regeneration and reducing the concentration of nociceptive and sensitive chemical substances in the immediate environment around the trigger point."2
Other Patient Populations Who May Benefit?
Further research shows that the presence of latent trigger points are associated with decreased muscular endurance and accelerated muscular fatigue.3 Consistent with these findings, a recent case study concluded that a small group of post total knee replacement patients who failed conventional physical therapy responded to dry needling in combination with therapeutic exercise. Clinically significant improvements were made in pain, range of motion, function and myofascial trigger points.2 Separate research performed recently by Brennan et al. concludes that for the treatment of greater trochanteric pain syndrome, dry needling was as effective in reducing pain as cortisone injection.5

As dry needling is relatively new in the field of physical therapy, research continues to be focused on determining which patient populations would most benefit from this technique. Research suggests patients who present with myofasical pain will benefit from dry needling.
Athletico and Dry Needling
Many Athletico clinicians have received certifications in dry needling as part of their continuing education.  To find a clinician certified in dry needling, please visit us at www.Athletico.com, type in your patient's zip code and select dry needling from the service tab.
To refer a workers' compensation patient for dry needling, click the button below.
The Athletico blog is an educational resource written by Athletico employees. Athletico bloggers are licensed professionals who abide by the code of ethics outlined by their respective professional associations. The content published in blog posts represents the opinion of the individual author based on their expertise and experience. The content provided in this blog is for informational purposes only, does not constitute medical advice and should not be relied on for making personal health decisions.
Gattie E, Cleland JA, Snodgrass S. The Effectiveness of Trigger Point Dry Needling for Musculoskeletal Conditions by Physical Therapists: A Systematic Review and Meta-analysis. J Orthop Sports Phys Ther. 2017;47(3):133-149.
Núñez-cortés R, Cruz-montecinos C, Vásquez-rosel Á, Paredes-molina O, Cuesta-vargas A. Dry Needling Combined With Physical Therapy in Patients With Chronic Postsurgical Pain Following Total Knee Arthroplasty: A Case Series. J Orthop Sports Phys Ther. 2017;47(3):209-216.
Ge HY, Arendt-nielsen L, Madeleine P. Accelerated muscle fatigability of latent myofascial trigger points in humans. Pain Med. 2012;13(7):957-64.
Brennan KL, Allen BC, Maldonado YM. Dry Needling Versus Cortisone Injection in the Treatment of Greater Trochanteric Pain Syndrome: A Non-Inferiority Randomized Clinical Trial. J Orthop Sports Phys Ther. 2017;:1-30.
Qerama E, Kasch H, Fuglsang-frederiksen A. Occurrence of myofascial pain in patients with possible carpal tunnel syndrome – a single-blinded study. Eur J Pain. 2009;13(6):588-91.