Joe Louis Arena, which is better known as "The Joe," has been the home of the Detroit Red Wings since 1979. The Joe is the second oldest arena in the NHL – with only Madison Square Garden being around longer – and has a lot of sports history attached to it. For many, Joe Louis Arena is just as iconic as Wrigley Field, Lambeau Field and Fenway Park.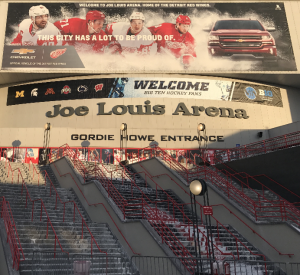 For the past two years Athletico has been a proud partner of the Detroit Red Wings. We are honored to be part of the team's last season at The Joe, and decided to reach out to one of our local staff members who grew up in the Detroit area so he could share his perspective on the closing of this legendary sports facility.
Saying Goodbye to "The Joe"
By R.C. Edwards, PT, MSPT, ATC and Regional Manager of the Metro Detroit area
The time has come for the last Wings' game at "The Joe." Why is this important to so many of us Wings' fans that grew up in the Metro Detroit Area? It has something to do with the Red Wings' 25 year playoff streak, the overall small venue that makes fans feel like they are part of the action and the fact that the arena keeps fans connected to all the Hall of Famers that have played in the building, including recent superstars like Pavel Datsyk and old time icons like "Mr. Hockey." The Joe also keeps fans connected to the late Mr. I, who brought four Stanley Cup Championship teams to the city and won't be a part of the new arena. Lastly, but perhaps most importantly, many fans who grew up in Detroit had their first hockey experiences with their fathers at The Joe, so as the arena closes it feels like a chapter in our lives is also closing.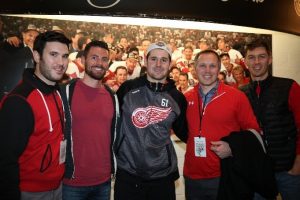 After the Wings' last game against the New Jersey Devils what can we look forward to? For starters, I assume that there will be more leg room, perhaps a cup holder at our seats (not necessary, but appreciated) and most likely more places to gather with friends around the arena before and after the games. I look forward to the new arena and all the modern amenities it will bring, but I'll also miss the little things like the secret parking spot my father-in-law showed my wife as a little girl, which was always accompanied by a walk through COBO where everyone would start getting excited before arriving at The Joe.
There's no question that there is a lot of change in Hockey Town with the passing of Mr. Hockey, the passing of an owner and the closing of an arena. However, the Red Wings' future looks bright, and the new arena will be ready for many new memories and historic moments.