Athletico Physical Therapy makes it a priority to give back to the community through a variety of initiatives each year, including charitable donations and volunteerism. This past March, Athletico's staff came together to raise money for multiple charities. Read more about all of these initiatives below:
10th Annual Chicago Hornets Youth Sled Hockey Game
For the past 10 years, Athletico has teamed up with the Chicago Hornets Youth Sled Hockey team for a fundraising game played during National Athletic Training Month. The Chicago Hornets are a sled hockey team open to 8-18 year olds with a physical disability in the Chicagoland area. The mission of the organization is to provide kids the opportunity to learn about and enjoy the game of hockey.
This year's game was held on March 20th at Mount Prospect Ice Arena. In addition to a $3,000 corporate donation, Athletico provided an educational component to this event by giving each parent information centered on concussion, overhead injury prevention and proper helmet fitting. In the end it was another great game, with the Chicago Hornets beating Athletico's team 5-1!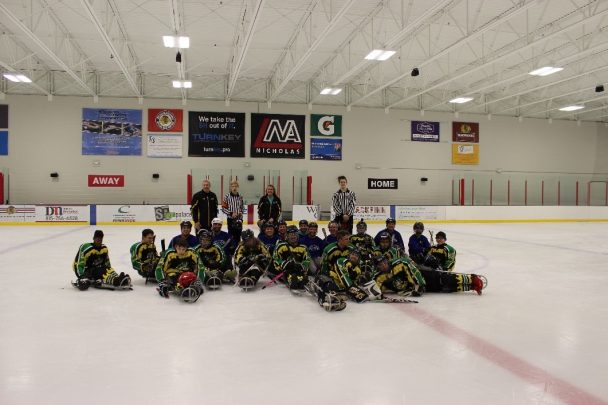 Volunteering within the Community
A variety of Athletico Athletic Trainers celebrated National Athletic Training Month by giving back with volunteer initiatives.
In Iowa, a group of Athletic Trainers and clinic staff got together to support the 11th Annual Sport Hunger Food Drive at Waldorf University. The event raised $15,000 to go toward 62,000 meals that will be sent to Tanzania.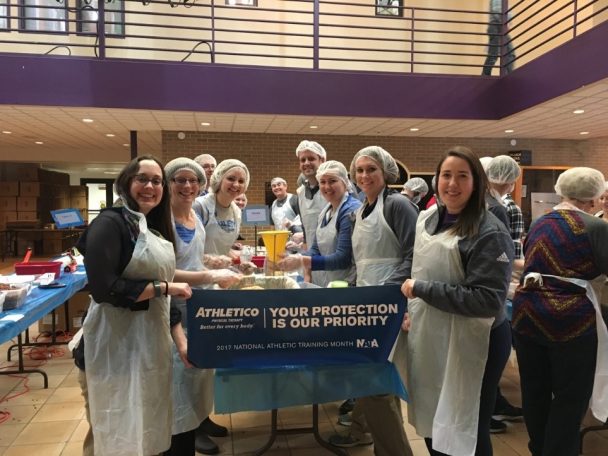 In the Chicagoland area, several Athletic Trainers from the North Suburbs volunteered with Feed My Starving Children in Libertyville, IL. This organization's goal is to provide nutritionally complete meals specifically formulated for malnourished children. Through this volunteer effort, 133 boxes were packed, which results in more than 28,700 meals that will feed 78 children throughout the year.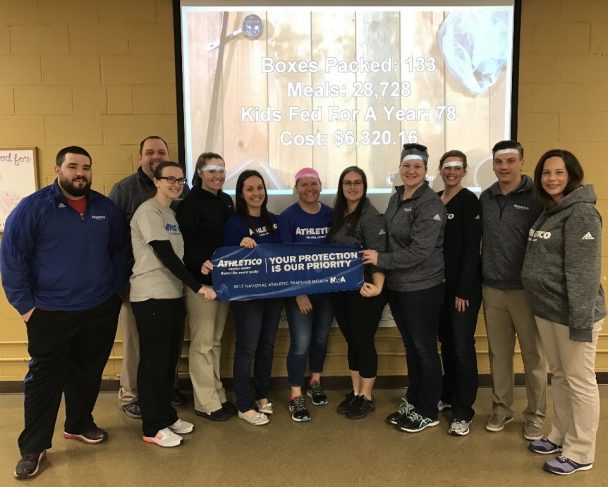 Jeans Day Fundraiser: Disabled Sports USA
Each month Athletico employees have the opportunity to donate money to charity in exchange for a jeans day. In 2016, employees gave back more than $30,000 to 15 charities.
Athletico employees have already raised more than $12,000 in just three months of 2017! In March, jeans day donations were raised for Disabled Sports USA, which is an organization with the goal of improving the lives of wounded warriors, youth and adults with disabilities by providing sports and recreation opportunities.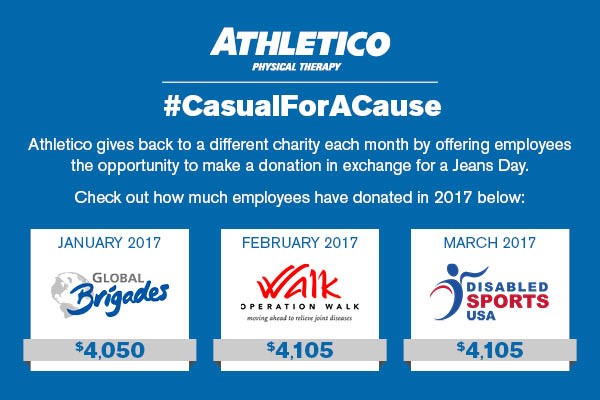 To learn more about Athletico's charitable giving initiatives, or to submit a charitable giving request, check out the pages below: