The first Athletico Physical Therapy clinic opened up in Chicago in 1991. More than 25 years later, Athletico has grown to more than 475 clinics in 12 states – many of which are in the Midwest.
Physical and occupational therapy are growing professions, and the Midwest has a lot to offer in terms of career opportunities. Athletico, for example, has open positions for both recent grads and experienced clinicians looking to advance their career. If you have been thinking about taking the next step in your career, but aren't sure what the Midwest has to offer, here are five reasons to make the move.
1. Get the best of both worlds.
From bustling cities to beautiful countrysides, the Midwest has the best of both worlds. For instance, city dwellers can spend the day shopping on the Magnificent Mile in downtown Chicago or book a food tour over the weekend in Milwaukee. Those that prefer country living, however, can spend the weekend fishing at one of Wisconsin's 15,000+ lakes, or go horseback riding in Iowa.
2. You will always be amused.
There are many ways to stay amused in the Midwest, but none better than an amusement park! Whether you want to ride roller coasters at Cedar Point and Six Flags, or jump on a waterslide in the Wisconsin Dells – the Midwest has plenty of attractions that will keep both thrill-seekers and sunbathers satisfied.

3. Never do the same thing twice (unless you want to!).

If amusement parks aren't your thing, there are many other activities across the Midwest. The Alder Planetarium, for instance, is a great public museum located in Chicago that is dedicated to the study of astronomy and astrophysics. Art lovers, on the other hand, might want to visit The Toledo Museum of Art, which is home to more than 30,000 pieces of art.
In addition to museums, the Midwest hosts a variety of festivals and fairs. From local-themed events like the Great Wisconsin Cheese Festival to popular summer concerts like Lollapalooza, there is always something to do in the Midwest. This means you never have to do the same thing twice – unless you want to, of course.

4. Spend time outside.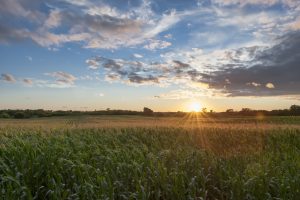 From swimming on the beautiful shores of Lake Michigan to exploring the wilderness at Starved Rock State Park, there are many ways to spend your days outside when living and working in the Midwest. Even as the weather gets colder, locals can keep busy by picking apples in the fall and snowboarding in the winter.
5. So many sports.
Last, but certainly not least, the Midwest is a great place to live if you are a sports fan. Whether you love baseball (the 2017 World Series Champs are from the Midwest), or are more of a football fan, the Midwest is home to some of the best professional sports teams in the country. Athletico is even a partner for the following professional teams: The Chicago Bears, Chicago Blackhawks, Chicago Bulls, Detroit Red Wings and St. Louis Cardinals. Don't worry if you prefer collegiate level sports – Athletico is also partner of the Big Ten Conference, Indiana University, University of Iowa and more.
Why Work at Athletico?
If you are looking to take the next step in your physical therapy, occupational therapy or athletic training career, consider a move to the Midwest to work at Athletico. Athletico a growing company with many opportunities for advancement. The company also encourages all clinicians to develop new skills through a variety of continuing education opportunities. Need another reason to make the move? Read "10 Things Employees Love About Working at Athletico."
Athletico Career Opportunities
The Athletico blog is an educational resource written by Athletico employees. Athletico bloggers are licensed professionals who abide by the code of ethics outlined by their respective professional associations. The content published in blog posts represents the opinion of the individual author based on their expertise and experience. The content provided in this blog is for informational purposes only, does not constitute medical advice and should not be relied on for making personal health decisions.