For 2017's final stretch, we will actually be performing a self-massage. You will need a tennis ball or something similar, as well as the corner of a wall to perform this Trapezius Release technique.
How to perform:
Stand roughly two feet away from the corner of a wall. Fold your body forward about half way and hold on to the wall or a sturdy surface, such as a table, as needed for support. Place the tennis ball on top of your left shoulder, between your neck and your shoulder joint, as shown in photo 1.
Lean into the wall with the ball, moving your head to the side of the wall as shown in photo 2. Let your left arm hang toward the floor. You have control over how much pressure you are applying on your Trapezius muscle by how much of your own body weight you are leaning into the ball and wall. Find a comfortable pressure and just take a few breaths here to let the ball sink into your tissues.
After a few breaths, reach your left arm up alongside your body as you inhale, as shown in photo 3. Then, as you exhale, bring your arm back to the starting point. This will massage the area further. Repeat this arm movement 10 times.
Mindfully step away from the wall and gently come to standing. Give yourself a moment before you position yourself for the other side. Repeat.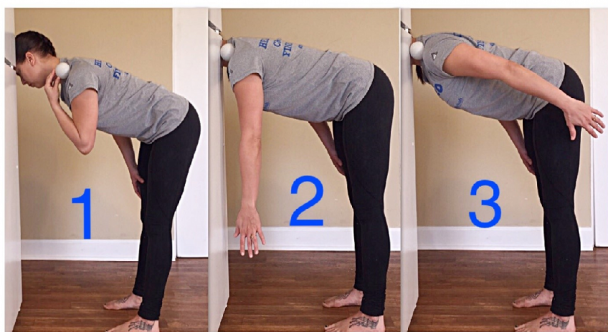 Interested in learning more? Email me at rachel.lackowski@athletico.com
The Athletico blog is an educational resource written by Athletico employees. Athletico bloggers are licensed professionals who abide by the code of ethics outlined by their respective professional associations. The content published in blog posts represents the opinion of the individual author based on their expertise and experience. The content provided in this blog is for informational purposes only, does not constitute medical advice and should not be relied on for making personal health decisions.