History has often overlooked many of the instrumental contributions of black women as professionals, healthcare providers, and thought leaders in a myriad of industries. During Black History Month, it is an honor to highlight some of Athletico's own black women that have been exemplars in our profession and have driven our team toward excellence at every level.
These individuals also serve as members of one of our Employee Resource Groups, known internally as the Black Business Resource Group (B-BRG). The goal of this network of employees is to provide a safe space for black employees to grow personally and professionally in their career. The B-BRG will look to develop internal leaders, and educate employees through discussion, internal events, panels, and more.
We proudly recognize the following women and what being a member of the B-BRG and/or a leader means to them.
---
Erica, Administrative Operations Manager (Michigan/Northwest Ohio)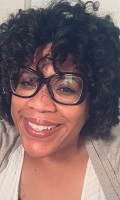 In her 16 years with Athletico, Erica has had the opportunity to positively impact the leadership of others not just administratively in her own area but also in her work with our Charitable Foundation that reaches across our organization. Her commitment to creating spaces where others can thrive allows her to continually encourage those around her to believe in themselves and achieve their goals. She builds environments where people can learn, have fun and most importantly offer exceptional service and care to our patients each day.
"Providing space and opportunity for others to thrive and find community is one of my passions. Being a member of the B-BRG will allow me to be part of creating a space where other black employees can find connection, solidarity and support which are integral parts of their professional experience."
---
Britney, Physical Therapist Assistant, Athletico Kokomo, IN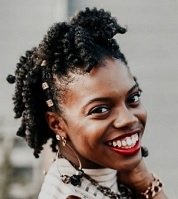 Britney has worked as a Physical Therapist Assistant at our Kokomo, IN clinic for 3 years and counting. She currently serves as a member of our Inclusion, Diversity, and Equity Council and is currently pursuing her DPT to progress herself, her profession, and her company.
"Advocacy is greatly needed for those that are less served, have lacked proper resources, and those who have not benefitted from the system that we know. Being a member of the B-BRG gives me an opportunity to represent, observe, and advocate for those who look like me. The value of advocacy, mentorship, and sponsorship is vital to the black community. My hopes in being a member of the Black BRG is to provide these vitals, along with confidence in having a seat at the table with equitable contribution. Membership in the Black BRG enhances the value of my person to a community that I am forever bound to, and I find pure joy in that."
---
Sheena, Facility Manager/Physical Therapist/Athletic Trainer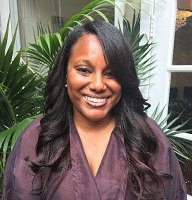 Sheena has always had a passion for movement in her personal life as an athlete which ultimately translated to her professional life. Sheena boasts an impressive educational background with her degrees: Doctor of Physical Therapy and Masters of Science in Athletic Training. She has been a Facility Manager at our Ypsilanti-Ann Arbor clinic for the last 2 years and currently teaches in the Masters of Athletic Training Program at Concordia University as Adjunct Faculty teaching Therapeutic Exercise and Therapeutic Modalities.
"The B-BRG presents the opportunity for our team to help Athletico continue to improve having a positive impression on black employees and the black communities as a company of impeccable rehabilitation care and being able to direct our patients to additional resources for other health care area needs."
---
Destinee, Head Athletic Trainer at East St. Louis Senior High School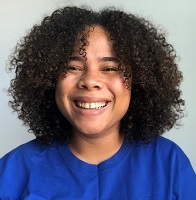 Destinee is in her second year as the Head Athletic Trainer at East St. Louis Senior High School. She completed her BA in Exercise and Sport Science (Athletic Training concentration) with a second major in Psychology at the University of North Carolina at Chapel Hill and her MS in Kinesiology (Athletic Training concentration) at Temple University.
"As a member of the B-BRG, I can create and grow a community space that encourages people to bring their whole selves to work and celebrate who they are. Being a member means being a person others can seek to feel seen and valued. I'm excited to be a part of this family and can't wait to see how we grow together!"
---
Geri, Vice President of Billing Operations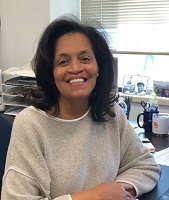 Geri began her career nearly 36 years ago and has been part of the Athletico family since January 2002 where she started as Manager of Clinical Operations overseeing a billing team of 10 people. Now serving as Vice President of Billing Operations, Geri manages over 150 employees at our Westmont Billing Resource Center.
"My focus of hard work and determination instantly matched up with Athletico's culture and core values. I am glad that Athletico afforded me the opportunity to showcase my talents and abilities based on my skills and knowledge. I didn't feel that my accomplishments were focused on my race but how well I did my job, the quality of my work and how I could assist to move the business forward allowing me to bring 100% of who I am to my job each day. I always worked hard and ensured that I put my best foot forward. I also appreciate the people who have supported me throughout the years and recognize me for my contributions. I believe it has to start with the culture of the company in order to provide a good foundation for inclusion, diversity and equity. Understanding that 'it takes a village' to achieve success and as a supporter of collaboration, I welcome inclusion and diversity across all Athletico teams."
---
If you wish to learn more about the ID&E, please reach out to: ID&E@athletico.com.
To learn more on Athletico celebrating the works of black women in the physical therapy industry, please read the latest blog post on Dr. Mary Louise McKinney Edmonds and her legacy that continues to benefit so many minority and female clinicians today.
The Athletico blog is an educational resource written by Athletico employees. Athletico bloggers are licensed professionals who abide by the code of ethics outlined by their respective professional associations. The content published in blog posts represents the opinion of the individual author based on their expertise and experience. The content provided in this blog is for informational purposes only, does not constitute medical advice and should not be relied on for making personal health decisions.